1 Killed In Crash With METRO Bus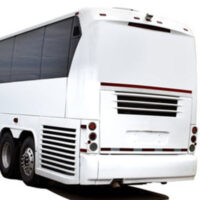 You may have told someone that you will work on something or show up for an event "unless you get hit by a bus." This may seem like a funny thing to say, but the truth is that sometimes vehicles and people are hit by a bus, and that can be a devastating situation. In some cases, though, the vehicle is the one hitting the bus.
This recently happened in southwest Houston. An SUV rear-ended a METRO bus that was loading and unloading passengers. One person inside the SUV was killed. The fatal accident occurred on the afternoon of April 12 at the intersection of Bissonnet Street at Bonhomme Road.
A child inside the SUV was taken to Texas Children's Hospital for evaluation. Nobody on the METRO bus was injured. The crash is under investigation.
After a Bus Accident
Whether you or someone else caused a bus accident, you need to know the next steps so that you can get properly compensated. If you rear-ended the bus or otherwise did something to cause the accident, you will likely be at fault. Still, it's a good idea to take notes of what happened and get photos. It's possible that the bus driver could have contributed to the accident, reducing your liability and allowing you to get more compensation.
If the bus driver is at fault for an accident, the driver's insurance company could be liable for the accident. If you were a victim, you would have to prove that the bus driver was negligent. For example, could you prove distracted driving, intoxication, poor training, reckless driving, or some other reason?
Typically, a driver must prove that they were negligent in causing the collision. If the bus driver can be proven negligent, they will be forced to pay for the damages. This can include property damage, medical bills, and pain and suffering.
Depending on the circumstances of the accident, METRO or another bus company may be held liable for any damages. Even if the driver directly caused the accident, the bus company may be partially at fault. For example, fatigue due to long hours, a defective part or poor maintenance, or poor training are all situations that could place the bus company at fault. If the bus driver or company cannot pay for the accident, then the victim may be able to file a lawsuit. There may be other legal recourses you can take as well. An experienced personal injury lawyer can assist you.
Contact a Personal Injury Lawyer
Bus accidents can be complex crashes. There may be significant or fatal injuries involved. Plus, filing a lawsuit against the bus company often requires a different process.
If you have been injured in a bus crash, seek legal help from a Houston bus accident attorney from The West Law Office, PLLC. We'll guide you through the process. Schedule a free consultation today by filling out the online form or calling 281-347-3247.
Source:
abc13.com/metro-bus-crash-deadly-accident-houston-traffic-death-bissonnet/13119075/