School Bus Flips Over, Causing Minor Injuries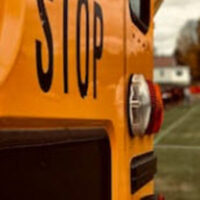 The safest place for your child to be is on a school bus. These vehicles are heavy and built tough. They are generally very safe in an accident.
However, they can still overturn and cause injuries. A Fort Bend Independent School District (ISD) bus was involved in an accident on the morning of May 13. It flipped on its side after hitting a guardrail. Both people on board were injured.
The bus hit a guardrail on the Fort Bend Tollway for unknown reasons. This caused the bus to go up in the air and land on its side. Multiple witnesses stopped to help. The guard rail sustained major damage. Multiple law enforcement officials arrived at the scene.
There were no students on board. There were just two adults—a bus driver and aide. Both suffered minor injuries and were taken to a local hospital for treatment. Both lanes were blocked and closed for several hours.
 Causes of Bus Accidents
Bus accidents can be caused by bus drivers or other motorists. Some common causes include the following:
Blind spots. Buses are long and often have numerous blind spots. While there are mirrors to help with this, it is possible for a bus driver to not be able to see certain areas surrounding the bus.
Weather conditions. Poor weather conditions can cause visibility issues as well as poor road conditions. Rain, snow, and ice can cause roads to become slippery, making it hard to stay on the roadway. Bus drivers need to adjust their driving accordingly to avoid accidents.
Many bus drivers and truck drivers suffer from sleep apnea, which means they don't get sufficient sleep. This can cause them to become fatigued while behind the wheel. If they fall asleep, they can go off the road or collide with another vehicle, causing a serious accident.
Bus company negligence. A bus company can be negligent in many ways. One is a lack of training. Bus drivers need sufficient training before they get behind the wheel, as buses are very large and hard to control. When bus companies cut corners, everyone is affected. A lack of maintenance is another common issue. Buses need to be properly maintained in order to run efficiently and keep occupants safe. Tires and brakes should be replaced as needed and buses need regular oil changes and other maintenance, just like cars.
Contact a Personal Injury Lawyer
School buses are sturdy vehicles but they can still roll over and injure occupants. If you are a bus passenger, make sure you understand your legal rights.
Count on a Houston bus accident attorney from The West Law Office, PLLC for legal assistance. We'll get you sound legal advice and adequate compensation. Schedule a free consultation by calling 281-347-3247 or filling out the online form.
Source:
abc13.com/fort-bend-tollway-crash-school-bus-overturn-houston-traffic-whats-happening-on-ft/11844842/