Motorcycle Rider Killed In Crash After Running Red Light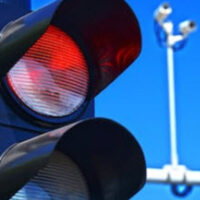 Motorcycles can be fun but they can also be dangerous, especially if the rider doesn't follow the rules of the road. Traffic signals help control traffic flow, so when a person runs a red light, for example, the results can be disastrous and even fatal.
Sadly, this was recently the case in Houston, when a motorcycle ran a red light while speeding. This led to a multi-vehicle crash, killing the motorcycle rider.
The fatal accident occurred on the evening of May 31 in the 7800 block of Harwin Drive in Houston. An off-duty officer was at the intersection facing north when a motorcycle drove past him. The rider then went through a red light at a high rate of speed. At the same time, a pickup truck was traveling west.
The motorcycle collided with the pickup truck, with the pickup truck then hitting an SUV that was stopped at the red light.
Despite the off-duty officer performing CPR on the motorcyclist, the man died at the accident scene. The drivers of the other vehicles remained at the accident scene. The crash is under investigation.
Dangers of Running Red Lights 
Running a red light may save you some time, but it's a dangerous decision that comes with serious and even fatal consequences. Hundreds of people are killed in these crashes every year, with tens of thousands more injured.
A person runs a red light when a vehicle enters an intersection after the signal light has turned red. However, if a driver is inadvertently in an intersection when the light changes, then that is not considered a red light violation.
When a right turn on red is permitted, the drivers must first come to a complete stop. If they fail to do so, they may be considered red light runners. Turning right on red at intersections where doing so is prohibited is also a violation.
Are there specific types of people who run red lights? They are more likely to be younger men. Many have prior crashes or alcohol-related driving convictions on their record. Many do not have valid driver's licenses. In many cases, red light runners are speeding or under the influence of alcohol.
Red light cameras are effective. These cameras have been shown to reduce both red light violations and crashes. While many people think of red light cameras as an invasion of privacy, those who obtain licenses are agreeing to abide by certain rules. Red light cameras are a way to catch people who break those rules, just like police officers.
Contact a Personal Injury Lawyer
Traffic signals are in place for a reason. When a driver ignores them, they can cause a serious crash. As seen in this case, accidents can even be fatal.
A Houston motorcycle accident attorney from The West Law Office, PLLC can help you get the compensation you deserve for your accident case. We'll help you understand your legal options.
Call 281-347-3247 or fill out the online form to schedule a free consultation.
Source:
click2houston.com/news/local/2022/06/01/motorcyclist-dies-after-running-red-light-crashing-into-pickup-truck-in-sw-houston-hpd-says/