Head-on Accidents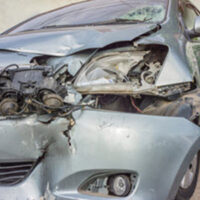 Driving on the road can be scary, even for an experienced driver. There are many ways in which car accidents can occur. Sometimes a car can come straight at you, causing a head-on collision. As the name implies, a head-on crash occurs when the fronts of two vehicles hit each other.
While they don't happen too often, head-on accidents can be scary and even deadly. That's because these crashes are known to be some of the most dangerous. Head-on collisions account for more than 10% of fatal motor vehicle accidents. They are caused by negligence, primarily when a driver breaks a traffic law. These crashes often happen on freeways and two-lane roads, particularly at night, when visibility is limited.
Causes of Head-on Collisions 
Head-on crashes can happen in various ways, including the following:
Improper passing. Many drivers are in a hurry and some will pass slow-moving vehicles unsafely (and even illegally). This can cause them to hit a vehicle while in the adjacent lane.
Drug or alcohol use. Intoxicated and drugged driving affects the entire body. It slows down reflexes and causes drivers to make poor decisions. As a result, they may drift into the adjacent lane and hit a vehicle head-on.
Fatigue/falling asleep. Driving at night or driving on very little sleep can lead to dangerous driving. If a person is tired or even asleep at the wheel, they will make poor decisions. They will lose focus of the road and drift out of their lane.
Distracted driving. Distractions can also cause drivers to drift out of their lane and hit a vehicle coming in the opposite direction. That's why motorists need to minimize distractions that can cause them to lose focus, take their eyes off the road or take their hands off the wheel.
Avoiding hazards. Sometimes drivers try to avoid road hazards, such as potholes or animals. As a result, they travel into the other lane and cause a head-on crash.
How to Avoid Head-On Accidents 
Head-on crashes can be difficult to avoid once you notice another vehicle is coming straight at you. However, there are a few things you can do ahead of time to minimize the risk.
Read the road ahead. This means driving defensively and scanning ahead for any hazards.
Reduce your speed. If you see a vehicle driving recklessly ahead, slow down as much as possible. Even reducing your speed by 10 miles per hour could save your life.
Be prepared to drive off the road. If a head-on crash is imminent, stay as far to the right as possible and be prepared to go off the road onto the shoulder to avoid a crash. 
Contact a Car Accident Lawyer 
Head-on accidents can be scary for motorists and for good reason. These crashes often result in catastrophic injuries and even death due to the high speeds and forces involved.
If you were involved in any type of car accident, let the Houston auto accident attorneys at The West Law Office, PLLC help. We can assess your case and assist you in obtaining compensation for damages. Fill out the online form or call 281-347-3247 for a free consultation.
Resource:
iii.org/fact-statistic/facts-statistics-highway-safety