1 Killed In Fiery Semi Truck Crash In Sugar Land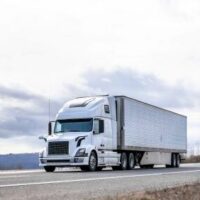 Texas sees a lot of traffic due to semi trucks. These large vehicles are responsible for hauling freight to stores and warehouses, and while necessary, they can cause serious semi truck crashes if not driven properly.
A semi truck was recently involved in a fiery crash in Sugar Land, killing one person. The fatal accident occurred on the morning of July 25 on US-59 at Crabb River Road.
A semi truck and pickup truck collided on the road for unknown reasons. The semi truck, which was hauling produce, overturned due to the impact. Both vehicles caught fire and were engulfed in flames.
The driver of the pickup truck was killed in the crash. They died at the accident scene. The driver of the semi truck did not suffer any injuries. He was able to escape the burning truck. 
Causes of Semi Truck Accidents
As seen in this case, semi truck crashes are often deadly when they occur—and it's usually the occupants of other vehicles who die in these crashes, not the semi truck drivers. That's because semi trucks often weigh 20 times more than passenger vehicles. The impact can smash these vehicles, killing occupants.
However, most of these crashes are caused by the semi truck driver's negligence. Many are not properly trained to drive these large vehicles. They do not know the proper procedures for driving a vehicle of that size. They do not properly check blind spots before switching lanes. Many are under the influence of drugs or alcohol in order to stay awake, even though it's illegal to use these substances before driving. Plus, these substances impact judgment and reaction times, making accidents more likely.
Also, many truck drivers are fatigued. Semi truck drivers are often behind the wheel for many hours at a time. They are not given proper rest breaks, causing them to get tired, which affects their driving.
Speeding is another common issue. There are often strict deadlines involved, which means truck drivers have to arrive at a destination by a certain time. Due to the pressure they are facing, truck drivers speed. They go too fast and are unable to brake in time. They may run smaller vehicles off the road, causing fatal crashes.
Distracted driving is another serious issue. Driving a large truck for many hours at a time on deserted highways can be boring. To entertain themselves, these truck drivers may use their phones, eat, read, or find radio stations. Anything that takes their eyes off the road or their hands off the wheel can be distracting and cause a serious crash.
Contact a Personal Injury Lawyer 
Semi truck crashes are serious in nature. They are often deadly, with those surviving often living with catastrophic or permanent injuries.
The Houston truck accident lawyers at the West Law Office, PLLC can help you deal with the complexities of semi truck accidents. We understand the laws involved and will go through every detail to ensure you get the compensation you deserve. Schedule a free consultation today by filling out the online form or calling 281-347-3247.
Resource:
abc13.com/houston-traffic-in-texas-now-i-10-i-45/10907337/