Vaping Product Company Juul Faces Numerous Lawsuits for Injuries & Wrongful Death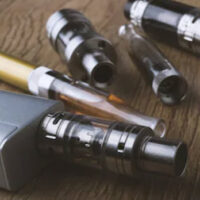 Juul—the main company that produces vaping and e-cigarette products—is facing a number of new lawsuits in connection with the many injuries—as well as wrongful death claims—that their products are associated with. In addition, in October, a former executive with the company also filed litigation, alleging that Juul shipped out one million contaminated e-cigarette pods in early 2019 knowingly; all while failing to issue a recall or inform consumers; placing many lives at risk. Specifically, batches of contaminated e-liquid were reportedly used to make approximately one million pods, which were then sold to retailers and consumers.
The lawsuit also alleges that Juul significantly misrepresents the nicotine content of its products to the detriment of consumers. Specifically, while the company advertises that one of its pods is the equivalent of one pack of cigarettes, in fact, studies have shown that these pods have up to four times higher absorption rates and concentration levels than cigarettes.
Addicting—And Killing—Minors
The lawsuits come amidst a firestorm of investigations and concerns from government agencies and public health officials, who blame the company for addicting millions of minors to dangerous levels of nicotine. As a result, there has been a nationwide lung injury outbreak, with more than 1,600 injured and 34 dead as a result. The wave of litigation has contravened claims that black-market THC vaping products are behind the injuries and deaths, in fact, a number of those affected only used nicotine e-cigarettes.
We previously mentioned health authorities in Texas confirming the first vaping-related lung disease in October that involved one woman dying due to vaping products. Sadly, this is only one of a number of fatal cases due to the company's vaping products, one of which has resulted in a wrongful death lawsuit to be filed against the company. At the heart of the lawsuit is the tragic death of an 18-year-old who reportedly died after using e-cigarettes for three years. As a result, his family is now seeking both compensatory and punitive damages in connection with claims that the company intentionally targeted minors with improper marketing and lies, creating an unprecedented and very dangerous epidemic of nicotine addiction. This victim's lawsuit is not alone, however; around the country, there are dozens of lawsuits pending against Juul in both state and federal courts.
Contact Our Texas Personal Injury & Wrongful Death Attorneys
Juul's legal troubles have likely only just begun: In addition to the many ongoing government investigations and wrongful death lawsuits, additional personal injury lawsuits filed against the company allege that their products have caused issues such as seizures and pulmonary disease, and that the company engaged in consumer fraud. If you or a loved one has been harmed due to Juul vaping products or any other products, contact our experienced Houston personal injury attorneys at The West Law Office to find out how we can help.
Resources:
law.com/therecorder/2019/10/15/juul-hit-with-first-wrongful-death-lawsuit/
vox.com/2019/10/30/20939978/juul-vaping-pods-lawsuit
buzzfeednews.com/article/stephaniemlee/juul-lawsuit-contaminated-pods