Truck Driver Killed in Texas Crash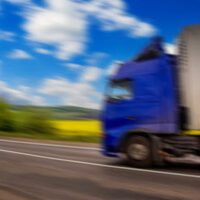 Texas sees the most semi truck traffic in the United States. These trucks are large, often weighing as much as 80,000 pounds. Therefore, when they are involved in a crash, the results can be catastrophic or even deadly.
Sadly, this was the fate for a truck driver when he was involved in a crash near the Texas-New Mexico border. The 67-year-old man from Virginia was killed when his truck hit a median, then an overpass.
The fatal accident occurred on the afternoon of July 29 on westbound Interstate 10 in Anthony. The semi truck was towing a trailer when it went into the center median. It then hit the overpass columns. The cause of the crash is unknown. The driver died in the crash.
The driver was hauling a non-hazardous chemical that resembled white powder. The powder, which was placed in bags, spilled onto the roadway in the crash. Traffic was closed for approximately eight hours in both directions and crews investigated and cleaned up the mess.
Why Do Semi Truck Crashes Happen?
Semi trucks crash for many reasons. Fatigue is one of the biggest ones. The trucking industry has hours in service laws in place to prevent truck drivers from working long hours, but some trucking companies fail to follow these rules. After all, deadlines have to be met, so drivers have to work until the cargo is delivered. However, working 12 or more hours straight can lead to fatigue, which can cause serious accidents.
Along the same lines, speeding is another issue. To make a delivery on time, a truck driver may go faster than what is recommended. Speeding, however, is not safe when carrying such a huge load. It makes it easier for a truck to lose control and harder to stop.
Lack of training is another factor. Semi trucks are not easy to drive. They are long and have numerous blind spots. They require a significant amount of training to drive properly. A driver who is not trained well can cause a serious accident.
Distractions are another issue. Driving a truck all day can be boring. There isn't much entertainment, especially in rural areas, where a radio signal can be lacking. Drivers may resort to using their cell phones, and taking their eyes off the road can be deadly.
Substance use is another factor. Some truck drivers use drugs to stay awake. Others use alcohol. These substances can impact judgment and reflexes, making it difficult for a driver to react in the event of an emergency.
Contact a Personal Injury Lawyer
Semi trucks are large and often cause fatalities when involved in a crash. If you or a loved one has been injured or killed, make sure you get legal help right away.
The Houston truck accident lawyers at The West Law Office, PLLC can guide you through the process of filing a claim and determining liability. We will take care of everything so you can focus on your recovery. To schedule a free consultation today, fill out the online form or call 281-347-3247.
Resource:
kvia.com/traffic/2020/07/29/deadly-semi-truck-crash-closes-i-10-east-at-anthony/
https://www.houstonpersonalinjury.law/truck-accidents-caused-by-poor-maintenance/