Semi Truck Driver Arrested After Deadly Crash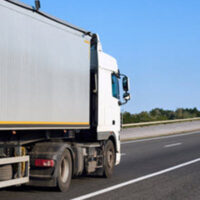 Semi trucks are large vehicles that help transport goods from one place to another. While these trucks are necessary for the economy, they need to be driven properly. A driver who is intoxicated, reckless, speeding, or inexperienced can cause serious or even fatal injuries to others.
Sadly, this was recently the case in Houston, leading to the death of a woman. The fatal accident occurred on the morning of April 18 on the I-10 East Freeway, near McCarty Street. Three vehicles were involved, including two semi trucks and an SUV.
The accident occurred when a Kenworth semi truck had stopped on the freeway due to traffic. A Chevrolet Tahoe stopped behind it. However, the driver of the Tahoe was trying to change lanes when it rear-ended the back of the Kenworth's trailer. A Peterbilt semi truck then rear-ended the Tahoe. The driver of the Tahoe, a 30-year-old woman, died at the accident scene. Nobody else was injured in the crash.
The driver of the Peterbilt, a 31-year-old man, performed several field sobriety tests and was determined to be intoxicated. Police observed that the man had red, glassy eyes and was off  balance. He also emitted the odor of alcohol. He was arrested and has been charged with intoxication manslaughter. The man admitted to drinking 12 ounces of beer the previous night. Police believe that the truck driver was under the influence of a depressant medication, although he denied it.
The man, a truck driver for 12 years, is married and the sole provider of five children. His bond was set at $100,000. He faces numerous restrictions, such as requiring permission before driving  and he is not allowed to have drugs or alcohol in his possession.
Drunk Driving by Truckers
Driving a semi truck is something that requires immense training and skill. It is much more difficult than driving a passenger vehicle. However, studies show that a high number of truck drivers use and abuse alcohol and drugs while behind the wheel of these large vehicles. Many of these drivers are right next to you on the highway, making the situation even more dangerous. In fact, these situations can be catastrophic.
Alcohol can reduce a person's ability to concentrate, making it harder to drive. It is illegal for all drivers to drive drunk, but professional truck drivers must abide by stricter standards. Instead of the standard 0.08 blood alcohol concentration (BAC) limit, semi drivers have a limit of 0.04.
Drug use is also on the rise. It's not always illegal drugs that are being used, though. Prescription medications such as "uppers" and  amphetamines are commonly used, as they can make drivers stay awake and feel more focused. However, they can also experience extreme effects such as hallucinations, vertigo, and even psychosis.
Contact a Personal Injury Lawyer
Semi trucks are very large and can cause significant injuries in an accident. The Houston truck accident attorney from The West Law Office, PLLC understands that truck crashes can be complex, so we'll work hard to represent your case and give you the best outcome possible. To schedule a free consultation, fill out the online form or call 281-347-3247.
Source:
fox26houston.com/news/deadly-crash-on-i-10-in-houston-closes-eastbound-lanes-at-mccarty