Pedestrian Killed In Hit And Run Accident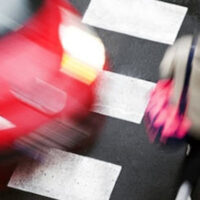 When a person is involved in any type of auto accident, they are required under law to stop and remain at the accident scene. Not all motorists do this, though. For some reason or another, they flee the scene, leaving others involved in the accident on their own, with no medical assistance. This often results in fatality.
Sadly, this was recently the case in Houston. A man was killed in a pedestrian crash near Clear Lake on the morning of June 19. The driver did not stop.
Details are scant, but it is believed that the man was walking either in the median or a moving lane of traffic when he was hit by a vehicle in the 13100 block of Old Galveston Road. The vehicle description is unknown, as no witnesses saw the crash take place. However, a passerby later stopped and called police. The victim has been identified as a 22-year-old man.
The only evidence police have is some car parts left at the scene after the vehicle hit the pedestrian. Police are looking for surveillance footage to piece together what happened and find the owner of the vehicle.
Psychology of Hit and Run Accidents
Drivers have an obligation to stop and remain at an accident scene. However, a growing number of motorists are shirking this responsibility and fleeing the scene after being involved in a crash. In extreme cases, some motorists keep on driving even with pedestrians and bicyclists hanging on their vehicles or embedded in their windshields.
Why do drivers act like this? Do they really not see the pedestrians hanging on their vehicles for dear life? The truth is that the brain can do some strange things, especially in an emotional situation such as a car crash. Some people are so scared and full of adrenaline that they're in denial of what happened, even though they clearly caused an accident and fled the scene. A lot of people are under the influence of drugs or alcohol at the time. Others are just very good at rationalizing.
Others panic. Some are scared, fearing higher insurance rates, criminal charges, and other harsh penalties. Then there are those who simply lack good morals. They are not emotional at all when they hit someone. They make it seem trivial, as if they didn't hit anyone at all. It's a split-second decision and if it's dark and there's nobody else around, it's easier for someone to say they thought they hit an animal instead of a person. The denial kicks in. 
Contact a Personal Injury Lawyer
Pedestrians in Houston need to be wary of their surroundings. Many are killed by driver negligence every year.
Both motorists and pedestrians have responsibilities. When an accident occurs, who is liable? A Houston pedestrian accident attorney from The West Law Office, PLLC can assess your case and help you recover from your injuries. To schedule a free consultation with our office, fill out the online form or call 281-347-3247.
Source:
khou.com/article/news/crime/man-dies-hit-and-run-crash-clear-lake/285-9dd89205-a3c4-4945-aff4-1accb1210ab5