Common Motorcycle Accident Injuries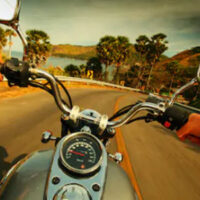 For motorcycle riders, nothing is more enjoyable than taking a ride on a nice, sunny day. However, nothing is worse than crashing your bike and suffering long-term, debilitating injuries.
This is a reality with motorcyclists. While bikes offer a ton of fun, they can be dangerous if you're not careful. Motorcycles do not have the same amount of protection as passenger vehicles. As a result, a motorcycle accident can lead to serious injuries. Some of them are outlined here.
Road Rash
Road rash is a common motorcycle injury, but it's not like getting a bad cut or scrape. It's worse than skinning your knee. Scraping your body on the roadway can lead to infections as well as permanent body damage such as scars and nerve damage.
Head Injuries
When a person doesn't wear a helmet, they can suffer head trauma in a crash. This head trauma can range from lacerations to concussions to traumatic brain injuries. While some are minor, many can last the rest of one's life. A brain injury can affect your entire body, from your movements to your emotions.
Spinal Cord Injuries
Spinal cord injuries are also very serious. They can cause some degree of paralysis, which can be temporary or permanent. You may not be able to move your arms and legs or ever walk again. Spinal cord injuries require an extensive amount of care and are costly.
Fractures/Broken Bones
Without proper protection, you can suffer broken bones in your arms, legs and other parts of your body. While broken bones do eventually heal, some injuries are serious, causing disfigurement and nerve damage.
Leg Injuries
Nearly 30% of motorcycle injuries involve the legs and feet. This is likely because they are the first body parts to come into contact with the ground in the event of a crash. Also, motorcycles are known to roll over and fall onto the riders' legs. Common leg injuries include fractures, ligament damage and lacerations from road rash.
Injuries Based on Helmet Use and Age
Some riders are more likely to suffer certain injuries based on their age and whether or not they are wearing a helmet. For those under age 40 and not wearing a helmet, the most common injury is a head injury. Injuries in the lower extremities as well as thoracic injuries, or blunt chest trauma, are also common. For those under the age of 40 and wearing helmets, under the age, the top injuries are lower extremity injuries, head injuries and upper extremity injuries. For older riders, both with and without a helmet, lower extremity injuries were the most common.
Contact a Personal Injury Lawyer
Motorcycle crashes can result in serious injuries, especially when no helmet is worn. In severe cases, they can also lead to death.
If you or a loved one has been injured or killed in a motorcycle accident, get legal help right away. The Houston motorcycle accident lawyers at The West Law Office, PLLC can assess your case and get you the compensation you deserve. To schedule a free consultation, fill out the online form or call 281-347-3247.
Resource:
ncbi.nlm.nih.gov/pmc/articles/PMC3217482/
https://www.houstonpersonalinjury.law/motorcycle-safety-wear-the-right-gear/