2 Drivers Arrested In Motorcyclist's Death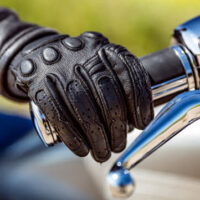 In motorcycle accidents, it's not uncommon for a rider to be hit by not one, but two vehicles. In these situations, the rider rarely survives.
Sadly, this was recently the case in San Leon, when a man was hit by two vehicles outside a bar. He died from his injuries. Both drivers have been arrested in connection with the man's death.
The fatal accident happened on the evening of November 30 on Bayshore Drive, in front of The Saloon. The motorcyclist was riding home after watching the sunset. He was a mile from his home when a car pulled out in front of him. The motorcycle hit the car.
The driver of the car stopped to help the man, who was on the ground. A truck then went around the car, hitting the rider. The driver of the truck kept on driving. The man, who was about to celebrate his 65th birthday, died from his injuries.
The driver of the car, an unidentified woman, was arrested for intoxication and assault with a vehicle. The driver of the truck was arrested on December 4 during a traffic stop. The 48-year-old man is in police custody, with bail set at $81,000.
Why Are Motorcycles So Dangerous?
Many people find motorcycles exhilarating. They can be a lot of fun for a good, experienced rider, especially on a beautiful day. However, for those who are new to the world of motorcycle riding, even a short ride around the block can lead to fatality.
So why are motorcycles so dangerous? Here are some common reasons:
Less protection. This is one of the main reasons why motorcyclists are seriously injured in crashes. Unlike a passenger vehicle, they have no protection and can easily get ejected.
Road conditions. Motorcycles can easily get into an accident when road conditions are poor. This may include potholes, oil slicks, rain puddles, and debris.
More challenging to ride. Motorcycles are hard to ride, as they require the rider's full attention. They also require extensive training and stability. Riders need to keep their weight distributed properly or the motorcycle can tip over and crash.
They're smaller. Often overlooked is the fact that motorcycles are much smaller than passenger vehicles. This makes it harder for motorists to see these bikes when turning or changing lanes.
Less stability. Motorcycles have two wheels and require balance and stability. However, even the smallest bumps in the road, such as hitting a pothole, can cause a rider to become unstable and crash.
Contact a Personal Injury Lawyer
Motorcycles are fun but not entirely safe. Riding a motorcycle is much different than driving a car, and those involved in motorcycle crashes often do not survive their injuries.
Let the Houston motorcycle accident attorneys at the West Law Office, PLLC assist you with your motorcycle accident case. We'll discuss your legal rights and options for compensation. Call 281-347-3247 or fill out the online form to schedule a free consultation.
Resource:
khou.com/article/news/crime/man-accused-of-running-over-man-after-motorcycle-accident/285-93102f44-6ffb-4b71-a6c8-3510b9551515