Woman Killed in Tow Truck Crash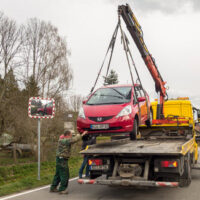 Semi trucks and tow trucks are large vehicles that are very heavy and sturdy. If a passenger vehicle hits one of these vehicles, the outcome can be fatal.
This was recently the case in Houston, when a woman rear-ended a tow truck that was trying to remove a stuck vehicle. The fatal accident occurred in the early morning hours of October 6 on the North Freeway, on the inbound frontage road near Cypress Station Drive.
An SUV was stuck in the mud in the median between the main lanes and the frontage road on the southbound North Freeway. A tow truck was trying to pull out the SUV when a Honda heading south disregarded the warning lights on the tow truck. The Honda could not stop in time and rear-ended the tow truck.
The driver of the Honda died at the accident scene. The tow truck driver, who was out of the truck at the time, saw the impending crash and was able to get out of the way and avoid injury. The roads in the area were closed for five hours as crews investigated and cleaned up. Drivers were told to avoid the FM 1960 exit.
 Underride Accidents
The woman in this case ended up under the tow truck's trailer. This is called an underride accident and these types of crashes are dangerous.
An underride crash happens when a car slides underneath the body of a large truck between the wheels. The point of impact in an underride crash is typically the hood or the windshield of the smaller vehicle. Because of this, some safety features in the car, such as airbags, may not become activated.
Underride crashes can lead to severe injuries due to the vehicles' height difference. The consequences of underride crashes are more likely to be severe and can range from serious head or neck injuries to fatalities.
The occupants in the smaller vehicles are the ones who are harmed the most in these crashes. Truck drivers do not usually get injured in these crashes because they sit higher up and away from the areas of impact. Sometimes truck drivers may not even be aware that there has been a crash.
At least several hundred people are killed in these crashes every year. While not common, these crashes are very serious for those involved. Those who survive are usually disabled or suffer permanent injuries.
Contact a Personal Injury Lawyer
Slamming into a large truck such as a tow truck can result in catastrophic injuries and even death. Drivers need to be aware of what is in front of them at all times and slow down.
After a crash, get the legal help you need from a Houston auto accident attorney from The West Law Office, PLLC. We can help you get full and fair compensation for all your injuries and damage. Schedule a free consultation by calling 281-347-3247 or filling out the online form.
Source:
khou.com/article/traffic/houston-traffic-i-45-north-freeway-crash/285-4d9745db-2fbc-4ac0-accf-82affc9c471d