4 Pedestrians Hit While Jaywalking in Houston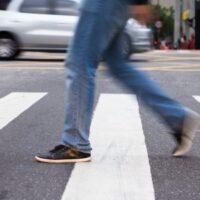 When it's very early in the morning, drivers just want to get to their destination. They may be on autopilot. They're not always looking for pedestrians or anything else in the road.
Four pedestrians were recently involved in an early morning crash in Houston. All are expected to be OK. The accident happened on August 11 near the Galleria.
Four women were leaving Club KAMP. They were jaywalking in the 6000 block of Westheimer Road when they were hit by a car. The driver was an unidentified woman who stopped at the accident scene and was not considered to be intoxicated.
One of the pedestrians was critically injured, but all are expected to survive. The road was closed for some time, but later reopened. Police are still investigating the accident.
What is Jaywalking?
Jaywalking is a traffic offense that is not talked about a lot, but it happens quite often, especially in urban areas. Jaywalking occurs when a pedestrian crosses a street illegally. It may be considered jaywalking if a pedestrian crosses against a red light or doesn't yield to oncoming traffic. It may not sound like a big deal to many people, but it should be. It is illegal in most states, including Texas. The law in Texas is that the pedestrian always has the right of way only when crossing at a crosswalk or other pedestrian crossing. If you cross the road at places where it is not legal to do so, you could be given a ticket and ordered to pay a fine.
On top of that, jaywalking is also dangerous. Approximately 5,000 pedestrians are killed in accidents every year. In many cases, pedestrians are at fault for these crashes. As mentioned above, pedestrians do not always have the right of way. This is because drivers cannot be held responsible for always being able to stop for someone in the road. If a pedestrian darts out in front of a car, it may not be possible for the driver to stop in time. If a pedestrian crosses a freeway, a driver may not be able to slam on the brakes and avoid the person, especially since many freeways have speed limits of 70 miles per hour.
Still, many people jaywalk because the crosswalk may be far away. Or maybe they're just in a hurry. In any case, drivers and pedestrians need to be aware of each other in order to avoid serious accidents.
Contact a Personal Injury Lawyer
Pedestrians do not always have the right of way. They need to be mindful of vehicles traveling on roads. Not all drivers will be able to slow down in time, especially if they are traveling at high speeds.
A Houston car accident attorney from The West Law Office, PLLC can help you understand your legal rights and obligations in a crash. Schedule a free consultation by calling 281-347-3247 or filling out the online form.
Source:
cw39.com/news/local/car-crash-on-westheimer-strikes-4-pedestrians-hpd-says/