Woman Killed After Crash Causes Fireworks Explosion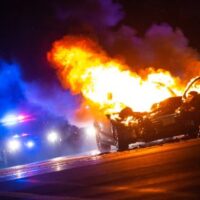 A violent crash can cause a vehicle to catch fire. However, not many people expect an explosion caused by fireworks afterward. This is what happened in a weird car accident case in Houston.
A woman was killed after a car crashed into a tree, caught fire, and then caused fireworks to go off. The fatal accident occurred on the evening of October 3 on South Gessner Road.
A man was speeding in a Chevrolet Camaro when he lost control and hit a curb. The car spun around and hit a tree in the median. The vehicle was split in two. The Camaro burst into flames.
Police officers arrived at the accident scene to put out the fire. However, as they tried to pull out the passenger, a 21-year-old woman, fireworks in the trunk started going off.
Witnesses heard explosions that sounded like firecrackers and gunshots. It created a catastrophic scene, with people nearby trying to get away from the scene for their own safety.
The woman died at the accident scene. The driver, a 20-year-old man, was determined to be under the influence. He was taken to a local hospital with minor injuries. No criminal charges have been filed against him at this time.
Fires After Car Accidents
Vehicles commonly burst into flames after car accidents. Fires can happen when the impact of a crash causes the fuel tank to leak. Plus, there are so many electric vehicles on the roadways nowadays, and this can lead to electric vehicle battery fires. These are very hard to extinguish.
Even when a fire does not occur, occupants of a vehicle can still be burned:
When an airbag is deployed.
When explosions occur inside the vehicle.
When chemicals such as gasoline, oil, and battery acid are leaked during an accident.
When vehicles have electrical problems after a crash.
There are several types of burn injuries that can occur after a crash:
‍Scald burn injuries. These occur when steam or hot fluids are present. ‍
Inhalation burn injuries. These occur When smoke or chemical gasses are inhaled‍.
Electrical burn injuries. These occur when charged wiring or metal is present, or there is contact with downed high-voltage power lines.
Burn injuries can cause a lot of symptoms, such as:
Redness and swelling
Severe pain
Itchiness
Sensitivity
Blisters on the skin
White skin
Difficulty breathing
Faint pulse or weakness
Trouble standing
Burns can also lead to complications such as:
‍Infections. Burn sites can become infected anytime during the recovery and healing process. ‍
Sepsis is a potentially life-threatening complication of severe infection in burn injury patients.
Respiratory problems. Burn victims with inhalation injuries may experience respiratory failure.
Contact a Personal Injury Lawyer
Cars are likely to catch fire after a crash, especially if there are fireworks in the vehicle. Such an explosion can cause flames, loud noises, and a catastrophic scene.
In a crash? Injured? A Houston auto accident attorney from The West Law Office, PLLC can help you through the legal process. To schedule a free consultation, fill out the online form or call 281-347-3247.
Source:
click2houston.com/news/local/2023/10/04/20-year-old-woman-killed-after-car-crash-causes-fireworks-to-spark-in-trunk-overnight/