Woman Faces Charges After Toddler Falls Out Of SUV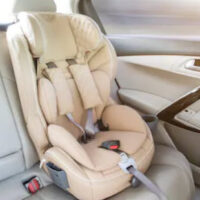 While sometimes people jump from moving vehicles as a dare or to escape an imminent accident, it's rare to hear of people falling out of vehicles. That's because vehicle occupants are supposed to wear seatbelts. It's required by law for children to be in appropriate car seats.
A toddler recently fell out of an SUV on a busy Houston street. As the woman made a turn, her 19-month-old niece tumbled out of the vehicle. The woman can be seen getting out of the SUV and grabbing the girl to put her in the car again. The entire incident was caught on a dashcam from a nearby vehicle.
The scary incident happened on the afternoon of August 16 as the woman was making a right turn onto a feeder road on the I-69 Southwest Freeway at Hillcroft Street. As the SUV turned, the child, who opened the rear driver's side door, suddenly tumbled out of the vehicle. While one of the area's busiest intersections, luckily, there was not much traffic at the time. The SUV came to a screeching halt about 20 feet away, with the driver running to grab the child. The driver then shut the rear door and got back into the driver's seat within seconds. It did not appear as though the toddler was seriously injured.
The incident occurred because the aunt used a booster seat instead of a car seat for the girl. There were three other children in the SUV who were not properly restrained. According to the girl's grandmother, this was not a first-time event. The toddler had gotten out of her car seat and pulled on the door handle before.
The 29-year-old woman faces a felony charge of endangering a child. Bond has been set at $40,000.
Jumping Out of Moving Vehicles
It's technically not legal for people to jump or fall from moving vehicles, as occupants need to be wearing a seatbelt at all times. A person who is wearing their seatbelt should not be able to jump or fall from a vehicle. Those who are not wearing a seatbelt are much more likely to suffer catastrophic injuries or death in a car accident.
Even at low speeds, a person who jumps or falls from a moving vehicle can easily die due to the laws of physics. For example, if a car is traveling at 30 miles per hour, a person who jumps out of a vehicle is also moving at 30 miles per hour. The momentum makes it hard to stop quickly so you won't fall. Hitting the concrete at that speed is a lot of force that can break bones, cause head trauma, and even lead to death.
 Contact a Personal Injury Lawyer
While rare, car accidents can occur without the vehicle even crashing. A person can fall out of the vehicle, as seen in this case.
No matter how your crash occurred, seek legal help from a Houston auto accident attorney from The West Law Office, PLLC. We'll help determine liability so you get the compensation you deserve. To schedule a free consultation, fill out the online form or call 281-347-3247.
Source:
abc13.com/aunt-charged-with-child-endangerment-19-month-old-falls-out-of-moving-car-nichole-nelson-charges-hillcroft/12146027/