Man Killed When Vehicle Goes Off Beltway 8 Interchange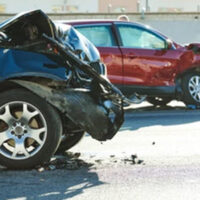 Car accidents can occur in a number of ways. Going too fast can cause some crazy accidents. Excessive speed has caused vehicles to fly into houses, land upside down against trees and poles, and even fly off interstates.
A freak accident in Houston caused a vehicle to hit a wall and fly off an interchange, hitting the exit below. The fatal crash occurred on the evening of August 26 on the eastbound Beltway 8 interchange, near the North Freeway.
 A man was driving a Mercedes-Benz on the southbound North Freeway. As he got onto the eastbound Beltway 8 ramp, he was traveling at a high rate of speed. He lost control and hit the wall several times. The Mercedes then went over the wall and landed on the Imperial Valley Drive exit below.
The man died at the accident scene. He was the sole occupant of the vehicle. The accident is still under investigation.
Consequences of Speeding
As the saying goes, speed kills. However, not everyone is paying attention to their speed while on the road. They may be running late for work, school, meetings, or medical appointments. Perhaps they are trying to get as much done as possible. In some cases, they are overconfident as they race around town in their sportscar. Maybe they're just distracted and not paying attention.
We all live busy lives, but high speeds are nothing to mess around with. They come with a lot of consequences. While you may not fly off an interstate or land upside down against an object, speeding still comes with significant risks.
As many as one-third of traffic fatalities are caused by speeding, so it's a huge problem. Speed limits are a law, not a suggestion. When many people decide to go past the speed limit, it can create a lot of chaos on the roads.
Speeding affects not just the driver but everyone else around them. Occupants, other motorists, bicyclists, and pedestrians can all be affected. Besides a speeding ticket, you could face other issues by going too fast, including:
Loss of vehicle control
Taking longer to stop
More serious crashes
Increased fuel consumption
Points of your driving record
Possible driver's license suspension
Expenses related to tickets, court costs, and higher insurance rates
It's always important to pay attention to your speed, especially when driving in inclement weather. Ice, rain, and snow can lead to slippery roads. To stay safe, you may need to slow down and even go below the speed limit.
 Contact a Personal Injury Lawyer
Drivers need to be wary of their speed. Going too fast on an elevated road can cause the vehicle to fly off and cause fatal injuries to occupants.
No matter how you were injured in a crash, seek legal help from a Houston auto accident attorney from The West Law Office, PLLC. We'll get you compensation and justice. To schedule a free consultation, call 281-347-3247 or fill out the online form.
Source:
khou.com/article/traffic/houston-traffic-driver-dies-beltway/285-9b691d71-786f-4fa1-8e11-0593307e47e7