When an Employer is Liable for Your Car Accident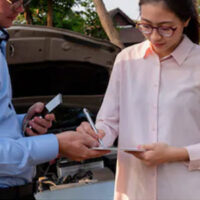 As you probably know as a driver, there are many types of car accidents. They can happen in many ways and no two are the same.
Liability can also differ in several ways. For example, if you are involved in a car accident while on the clock, who is responsible? Do you have to pay for the damages or should your employer foot the bill?
Whether or not you drive a company vehicle as part of your job duties, you may not be held liable for a car crash that happens during company time. Your employer may be held liable, which works out in your favor, since companies tend to have more insurance and assets than individuals.
Types of Liability
There are two main types of liability in workplace car crashes. Vicarious liability applies when a person is within the scope of employment when the crash occurs. If a pizza delivery driver was delivering a pizza at the time of the crash, then vicarious liability would come into play. Vicarious liability applies whether a person is driving a company car or their own personal vehicle. However, if the employee was hit in a parking lot after running an errand at a store, then it would be considered a personal errand and the employee would likely be held liable. You would only be covered by your employer's insurance if you were carrying out a job-related function.
Employers are not liable, however, when employees are off the clock. This applies when an employee is in a crash while commuting to and from work. An employer is also not liable for crashes that occur during a lunch break, as lunch breaks are typically not paid.
Direct liability is when an employer's negligence leads to a car accident. Some examples include the following:
Improper maintenance. This occurs when a company vehicle is not properly maintained. For example, not changing the tires, fixing squeaky brakes or changing the oil regularly can cause the vehicle to not operate well. This can lead to crashes.
Negligent hiring. This occurs when an employer hires someone who is not qualified for the job. This could include a bus driver who has never driven a bus before or a delivery driver with a history of DUIs or other traffic violations.
Negligent training. This when a company does not properly train a driver. For example, semi truck drivers and bus drivers require extensive training. A driver who is not properly trained can cause a serious accident.
Contact a Personal Injury Lawyer
Liability can be tricky in a car crash, especially if you were driving for work purposes. State and local laws apply, as well as workers' compensation regulations.
While safe driving can help, not all crashes can be avoided. If you were involved in a workplace car accident, seek legal help from the Houston auto accident lawyers at The West Law Office, PLLC. We can determine liability and hold your employer responsible for the damage. Schedule a free consultation by calling 281-347-3247 or filling out the online form.
Resource:
blog.drivedifferent.com/blog/what-happens-if-you-have-a-car-crash-in-a-company-vehicle