What to Do After an Uber or Lyft Accident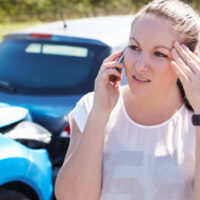 In the past, people often used taxi cabs to get from place to place when they had no vehicle or had been drinking alcohol and wanted to get home safely. Nowadays, people use rideshare vehicles from companies such as Uber and Lyft.
An Uber or Lyft driver uses their own vehicle to transport customers around town. Many people like this sort of setup, as it makes the process more casual and friendly. Plus, many people know someone who works as a rideshare driver, so it's often easier and more convenient to use Uber or Lyft.
While riding in these vehicles is usually safe, sometimes accidents do occur. Sometimes the rideshare driver is at fault. In other cases, another driver may be liable.
A rideshare accident can happen at a moment's notice. What do you do? Follow these steps.
If You Are the Driver
In the event of an accident, rideshare drivers need to move their vehicle to the side of the road.
They should check themselves and their passengers for injuries. If there are injuries, they should call 911 right away. If nobody is injured, the driver still needs to report the car accident to Uber and the police.
If possible, the driver should take pictures of the damage to their vehicle as well as any other vehicles involved in the car accident and the surrounding area. They should also get the contact information of any witnesses.
Uber drivers can report an accident by going to the app, clicking the Help tab, and clicking "I was in an accident." Next, select the trip in question and answer the questions about what happened. Be as specific as possible.
If You Are the Passenger
Rideshare passengers are typically not at fault in an accident unless they did something to cause the driver to crash. If a passenger is injured, they should seek medical help. They will also need to file a report.
For an Uber accident, they can report the accident through the app. Navigate to "Riders," "Help with a trip," and then "I was involved in an accident." Riders can provide information about the accident and submit any photos as evidence. An Uber representative will get back to them.
Is Uber Liable?
Uber is not responsible for any accidents caused by the driver. That's because drivers are classified as independent contractors and are therefore not Uber employees. However, Uber does offer insurance coverage to help drivers and passengers with damages when the Uber driver is not at fault.
Contact a Personal Injury Lawyer
Rideshare accidents do happen from time to time. Passengers are typically not at fault, but sometimes the driver or other parties may be, so things can be complex.
The West Law Office, PLLC can help you understand proper procedures after a rideshare crash. A Houston Uber accident attorney can help determine liability and get you the compensation you deserve. Schedule a free consultation by calling 281-347-3247 or filling out the online form.
Source:
ridester.com/uber-accident/