1 Killed in Rollover Crash on Gulf Freeway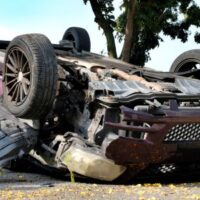 Rollover crashes are some of the most dangerous car accidents. These occur when the vehicle tips onto its side or roof, causing the occupants to be thrown around the interior or even ejected from the vehicle.
One person was recently killed in a solo-vehicle rollover crash in Houston. The fatal accident happened on the morning of June 4 on the Gulf Freeway.
An SUV suddenly flipped over in the northbound lanes of I-45 near Airport Boulevard. The vehicle then caught fire. The occupant was killed in the crash. No other vehicles were involved.
No further details were disclosed. The cause of the accident is unknown. The northbound lanes of the Gulf Freeway were closed for some time but have since been reopened.
Characteristics of Rollover Crashes
Rollover crashes are much more likely than non-rollover crashes to cause fatalities. Rollovers account for 20% of all fatal car accidents. The majority of them are single-vehicle crashes.
One thing to note, though, is that many of the victims were not using restraints at the time of the crash. Approximately 75% of those killed in rollover crashes were not using restraints. Just under two-thirds of them were ejected from the vehicle.
While the number of fatal passenger car rollover crashes has been decreasing in recent years, the number of fatal SUV, van, and light truck rollover crashes is increasing. In fact, the number of fatal SUV rollovers has more than doubled since 1991.
Speed is also an issue in rollover accidents. The higher the speed, the higher the likelihood of a fatal accident. Most crashes occur on roads with speed limits of 55 miles an hour or higher.
There are several ways in which a vehicle may roll over. They include:
This is one of the most common reasons for vehicle rollovers. They happen when a car's tire hits a curb, ditch, or other object, shifting the vehicle's weight to one side and causing it to roll.
Going too fast around a curve or taking a turn too fast can cause the tires to lose their grip on the road. This can cause the vehicle to roll over.
The force from colliding with another vehicle can be so strong that it can tip over your car.
Inclement weather. Rain, snow, and ice can make roads slippery, making it easier to lose control of your vehicle and roll it over.
Contact a Personal Injury Lawyer
Crashes do not have to involve multiple vehicles. An accident can happen with just one vehicle, and the results can be fatal.
The West Law Office, PLLC understands that each and every car crash case is different. Our Houston car accident attorney will examine all the aspects of your case and help you get full and fair compensation. Fill out the online form or call 281-347-3247 to schedule a free consultation.
Source:
khou.com/article/news/local/houston-traffic-deadly-crash-i-45-airport-blvd/285-ca581047-b775-4d6c-b147-f8a1be2b4a78