Understanding Airbag Injuries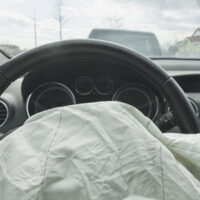 Many newer vehicles on the market come with advanced safety features, such as airbags. Often found in the steering wheel, dashboard and doors, airbags inflate quickly after a car accident to protect vehicle occupants from serious injuries. Airbags can and do save lives when deployed properly.
However, there is so much force and speed involved with an airbag deployment that it is possible for someone to suffer injuries due to the airbag. Even when deployed properly, you risk the chance of injuries from an airbag, so it's important to know what to be aware of and what options you have.
Sometimes airbags do not deploy properly. A malfunction can occur when an airbag does not activate when it's supposed to. Sometimes airbags may deploy even when there is no crash. An issue with a sensor might deploy an airbag too late. This could be an issue if an accident has caused a victim's head to thrust forward. If an airbag is delayed and deploys just a few seconds later, it could hit a person's head and cause brain injuries.
If you believe that an airbag injury was caused by a manufacturer issue, be sure to keep the airbag and related components. You will need this for evidence so you can file a product liability claim. You will need to prove that the airbag suffered from a manufacturing or design defect. To prove liability, you may need expert witnesses, so having a lawyer will be helpful.
Common Airbag Injuries
Airbags can cause various injuries. They can cause burns to the arms, hands and chest. A person can suffer skin irritation due to the chemicals in the airbags. Airbags can also lead to sprains and other injuries in the wrists and fingers. Internal bleeding and organ damage can also occur. Some people also suffer head and eye injuries, fractures to the face, skull and arms and even open wounds.
Preventing Airbag Injuries 
There are several things you can do to prevent airbag injuries. The most important thing you can do is wear a seatbelt. A seatbelt will take a lot of the pressure off the airbag, resulting in less serious injuries.
Also, ensure children are seated properly in the vehicle. Children under the age of 8 should be seated in an appropriate car seat or booster seat. Children under age 13 should sit in the back seat.
When driving, make sure you are sitting at least 10 inches away from the steering wheel. It's also a good idea to tilt the wheel down and recline the seat a little. If you are a passenger, sit as far away from the dashboard as possible.
Contact a Personal Injury Lawyer
Airbags can be helpful in the event of a car crash, but in some cases, they can cause painful, long-lasting injuries. Make sure you are aware of your legal rights in such a case.
Car accidents can cause serious injuries, even from safety devices like airbags. Seek legal help from the Houston auto accident lawyers at The West Law Office, PLLC. Let our team assess your case. To schedule a free consultation, call 281-347-3247 or fill out the online form.
https://www.houstonpersonalinjury.law/1-killed-4-injured-in-houston-car-accident/