Truck Driver Arrested in Fatal Hit and Run Crash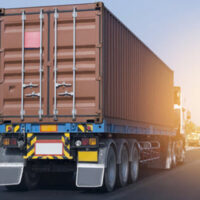 The highways and interstates in Texas pose a lot of dangers. There is a lot of traffic on these roads, with a large number of semi trucks. While many big rig drivers are highly experienced and responsible, some are not and they cause serious truck accidents.
Unfortunately, this was the case in San Antonio, when a truck hit a passenger vehicle and then fled the accident scene. The female driver of the vehicle died.
The fatal accident occurred on the morning of May 22 on Interstate 10, at Dominion Drive. A semi truck rear-ended a Ford Fiesta that was stalled in the road and had its hazard lights on. The truck driver continued on without stopping to render aid. The driver of the Fiesta, identified as Donna Falkenberg, 46, was killed in the crash.
Police later located the semi truck in downtown San Antonio, 20 miles away from the accident scene. The truck sustained major damage and even had pieces of the Ford Fiesta still stuck in it.
Initially, police officers thought that the driver had abandoned the vehicle and left a man asleep inside the truck. That was the story Justin Antwan Jackson gave them anyway. The man told police he was a passenger in the truck at the time. He claimed that he felt something, but the truck driver kept going, so he didn't think too much of it. Jackson also gave police a description of the truck driver.
Jackson gave police yet another story. He said he wanted to stop and remain at the accident scene, but his employer told him to lie to police. In addition, he didn't think there was anyone in the car when he hit it. He later saw a news report about the accident and called his employer and wife.
However, police later contacted Jackson's company. After interviewing Jackson again, police arrested him. The 29-year-old man faces charges of hit and run resulting in fatality.
Dangers of Truck Accidents
Truck crashes are known to be extremely dangerous, but why? First of all, semi trucks are huge. The average passenger car may weigh 4,000 to 5,000 pounds. A semi truck weighs much more. Some can reach 80,000 pounds. In a crash, these trucks can easily crush a vehicle, killing everyone inside.
When a truck needs to slow down, it can be hard to do so. It may be easy to brake in your car, but a truck cannot stop quickly in an emergency. It takes a long time for a truck to come to a stop.
Also, while you may be able to handle curves and quick actions in your car, a truck driver cannot do so. These large trucks are hard to maneuver. They cannot avoid road hazards easily nor can they fit into tight spaces.
Contact a Personal Injury Lawyer
Truck crashes are often fatal. Semi trucks weigh much more than passenger vehicles and a resulting crash can cause catastrophic injuries and even death.
The Houston truck accident lawyers at The West Law Office, PLLC have significant experience dealing with 18-wheeler accidents. We know how to thoroughly investigate these cases and ensure you get the compensation you deserve. Schedule a consultation by calling 281-347-3247 or filling out the online form.
Resource:
cdllife.com/2020/police-say-truck-driver-is-on-the-run-following-a-deadly-crash-in-san-antonio/
https://www.houstonpersonalinjury.law/common-causes-of-truck-accidents/