What Not to Do After a Car Accident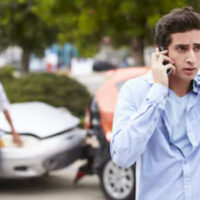 Nobody wants to be in a car crash, but given that there are millions of cars on America's roadways at any given time, chances are you may be involved in a fender-bender at some point. You may know the basics of what to do after you are involved in an accident, but are you aware of the things that you should not do?
Probably not. But it's important that you understand the things you should avoid doing after a car crash. The mistakes you make could cost you dearly—and even prevent you from obtaining the compensation you deserve. Here are some things you should not do after a car accident.
Leave the Accident Scene
Even if you think the crash is minor and nobody got hurt, you still need to stop at the accident scene and check on everyone involved. If you keep on going, you have committed hit and run, which is a crime. In Texas, fleeing an accident scene is typically a misdemeanor, but if someone was seriously injured or killed, you could be charged with a felony. So always stop just to be safe.
Admit Fault
After an accident, your first reaction may be to apologize. After all, it seems to be the polite thing to do. However, saying "I'm sorry" can actually ruin your case. These two words could legally place you responsible for the accident, since you are technically admitting fault. Therefore, as nice as these words may seem after such an incident, keep quiet.
Fail to Document the Accident
The insurance company is going to want details about what happened. When and where did the crash occur? Who was involved? What were the weather and road conditions like? Were there any injuries? What was the extent of the damage? You'll likely have to tell the story multiple times, so take notes so you don't forget. Be sure to get the other driver's information so they can be held liable, if applicable.
Fail to Seek Medical Treatment
Even if the crash was minor, you should seek medical help as soon as possible. Some injuries don't present themselves until days later, when you wake up sore one morning. Don't neglect seeing your doctor, even if you feel fine. You could have internal injuries that need to be treated right away. If you don't see your doctor for weeks or months later, and you end up seriously injured, it will be hard to prove your case. The insurance company will think that you're faking it.
Contact a Personal Injury Lawyer
If you've never been in a car accident, it's important to understand what you should do and not do. If you make the wrong move, you could lose out on your rights to compensation.
Protect your legal rights with help from the Houston auto accident lawyers at The West Law Office, PLLC. We understand the law and can give you the advice you need to recover full compensation for your medical bills, lost wages, pain and suffering and other damages. Get in touch with our office today for a free consultation. Call 281-347-3247 or fill out the online form.
Resource:
auto.howstuffworks.com/car-driving-safety/accidents-hazardous-conditions/5-things-after-car-accident.htm
https://www.houstonpersonalinjury.law/importance-of-having-um-uim-coverage/