Teen Injured After Hitting Pole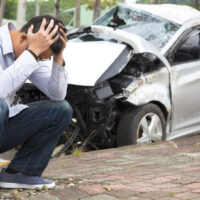 It's easy to get into a car crash if you're not paying attention. Driving takes a lot of skill and if you're inexperienced, the risk of getting into an accident is even higher.
A teen was recently injured after crashing into a pole in Houston. The accident occurred on the evening of August 27 on Mykawa Road.
A vehicle hit a pole near train tracks in the 7800 block of Mykawa Road. A teen was injured and taken to a local hospital for treatment. The details of the crash are unknown. It is unclear why the driver hit a pole.
Hitting Stationary Objects
Many drivers hit stationary objects such as poles, signs, trees, and even other vehicles. These crashes may happen because the driver is inexperienced, fatigued, reckless, or intoxicated. These accidents can cause significant vehicle damage as well as serious injuries and death, depending on factors such as the speed of the vehicle and point of impact with the stationary object.
Typically, these accidents occur while the vehicle is backing up. They may happen in parking lots, at gas stations, or even on a person's own property, such as their driveway.
These accidents can be prevented with improved driving skills. Drivers need to be aware of their surroundings, whether they are driving forward or backing up. Even when they are in a rural area or a neighborhood that's not so busy, there are always objects around that can be hit by a car, so awareness is key.
It is important for drivers to be aware of possible hazards. Bridges and low-hanging wires are things that you may need to be aware of, especially if you drive a tall truck. Poor weather conditions and low visibility are also hazards, so be careful when driving at night or driving in rain or snow.
You also need to be aware of your driving behavior. Eliminate distractions and focus on the road in front of you to prevent collisions. When entering parking lots or other areas where there are a lot of cars and people, slow down. Be extra cautious to avoid hitting anything.
When backing up, don't rely solely on a backup camera. Use your mirrors as well and manually turn your head to look for any objects that you may have overlooked. If you drive a large truck, bus, or van, then you may have to get out of the vehicle and look around the vehicle to make sure you won't hit a pole or other object.
Contact a Personal Injury Lawyer
Car accidents can happen in a number of ways, but most are caused by driver error, such as distracted driving or intoxication.
A Houston auto accident attorney from The West Law Office, PLLC can help you with your car accident claim. Get the compensation you deserve for your injuries. Schedule a free consultation by filling out the online form or calling 281-347-3247.
Source:
click2houston.com/news/local/2022/08/28/juvenile-taken-to-hospital-after-vehicle-crashes-into-pole-in-south-houston-police-say/