New Study Indicates That the Arrival of Ride-Share Services in Major Cities Brings Additional Fatal Auto Accidents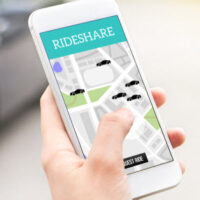 According to a new study released by Rice University in Houston, Texas, there has been a three percent rise in serious and deadly auto accidents in major cities once that ride-sharing platforms such as Uber and Lyft show up there. While these services are also providing a number of conveniences for citizens, the "costs" have been described as measured "in human lives," especially when it comes to increased rates of traffic accidents and fatalities. According to the study, these fatalities can (financially) be measured as costing approximately $10 billion.
Unfortunately, this isn't the first study that has noted a link between Uber and Lyft and traffic fatalities: The University of Chicago's Booth School of Business also estimated that two to three percent of the number of crashes in any given area can be attributed to the introduction of ride-sharing.
What The Study Examined
To be clear, the vehicles examined as being involved in accident in the study weren't necessarily all ride shares; the research and looked at total auto accident fatalities once that the rideshare has arrived at the cities (i.e. compared to before there was no ridesharing). According to statistics gathered by 2016, rideshare drivers were traveling approximately 500 million miles per month, leading to more overall cars on the road, which, of course, leads to greater potential for something to go wrong in the form of an accident. This could be explained, at least in part, by the fact that, according to the study, a number of rideshare companies will subsidize drivers to stay on the road even when demand is low, which then leads to an increased risk of those vehicles getting into accidents.
Doesn't Ride-Sharing Decrease Drunk Driving?
Still, it is important to note that other studies have indicated that the arrival of rideshare services in cities has actually lowered the drunk driving rates, which can lead to fewer overall fatalities on the road. In addition, a number of experts feel that the increase in auto accidents since 2011–especially those involving pedestrians–have more to do with the increased number of SUVs on the road and, according to some studies, the average "app" driver is actually less likely to drive aggressively, speed, and engage in distracted driving compared to the average driver on the road.
If You've Been in an Accident in Texas, Contact Our Houston Auto Accident Attorneys
Regardless of how big or small your accident was, if you have been injured, it is important to work with an experienced Houston auto accident attorney so that you are not taken advantage of by the other driver or the insurance companies. Contact the West Law Office today for a free consultation to find out how we can help.
Resources:
citylab.com/transportation/2018/10/uber-lyft-ride-hailing-cars-traffic-deaths-research/574000/
marketwatch.com/story/study-cities-with-ride-shares-like-uber-and-lyft-also-see-rise-in-fatal-accidents-2019-04-05
post-gazette.com/opinion/brian-oneill/2019/04/07/Brian-O-Neill-Ride-sharing-drunk-driving-Uber-Lyft-Pittsburgh-car-crash-deaths/stories/201904070053