Man Killed In Pedestrian Crash After Car Becomes Disabled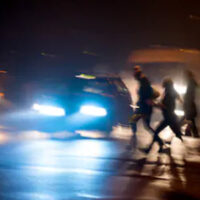 Being a pedestrian can be dangerous. Drivers do not always yield to people crossing roads. They may be distracted or drunk. In some cases, they are in a hurry. Vision is another issue, as it can be hard to see someone crossing the road in the dark late at night.
A man was killed in a pedestrian crash after his vehicle became disabled. The fatal incident occurred just after midnight on June 16 in Euless.
A man in his mid 30s was driving in the 100 block of East Airport Freeway, near Main Street, when his vehicle became disabled on the shoulder of the road. The man exited his vehicle and was crossing Airport Freeway when he was hit by a vehicle. He was killed in the crash.
The driver of the vehicle remained at the accident scene and cooperated with authorities. The driver is not expected to face criminal charges. 
The Risks of Walking at Night
The man should have stayed near his vehicle and called for help. Walking around at night is dangerous. In fact, most pedestrian accidents happen at night between 6 p.m. and midnight.
Why is walking at night so risky? There are several factors involved, including the following:
Decreased visibility. It's harder to see once the sun goes down. Darkness makes it harder to see a pedestrian. While headlights and street lights help somewhat, it's still not the same as driving during the day.
Lack of perception. In the daylight, a driver's perception is better. They may be able to see a pedestrian 200 feet away. At night, perception decreases, and a driver may not notice a pedestrian until they are under 100 feet away.
Slower reaction time. Darkness also makes it harder for drivers to react to situations, such as hazards in the road or pedestrians. In prime conditions, a driver may react at 30 feet at 30 miles per hour. This is often slower at night, equating to 50 feet or more at the same speed.
Nighttime is unsafe for pedestrians due to the risk of drowsiness. Drivers tend to become tired and less alert once it gets dark. The body starts to relax and prepare for sleep while the person is driving, which can cause many drivers to even fall asleep behind the wheel.
Road conditions. It's harder for drivers to see the surface of the road at night. This is especially true when there is also inclement weather to deal with, such as rain or ice. This can make it harder for drivers to see pedestrians.
Contact a Personal Injury Lawyer 
Pedestrian accidents tend to result in serious injuries and death, especially at high speeds. Those crossing roads need to be careful of vehicles.
Driver negligence can cause serious pedestrian crashes. If you have been affected, seek legal help from the Houston pedestrian accident lawyers at The West Law Office, PLLC. We can assess your case and help you obtain compensation. Schedule a free consultation today. Fill out the online form or call 281-347-3247.
Resource:
dfw.cbslocal.com/2021/06/16/pedestrian-hit-killed-vehicle-disabled-euless/