Man Killed After Running Red Light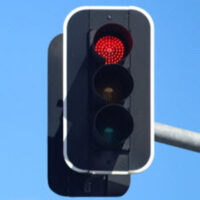 Car accidents happen in many ways. Many occur when someone does not follow the rules of the road. Sometimes this means following traffic signals. For example, a red light means stop. When a driver runs a red light, another vehicle has the right of way and an accident is likely to occur.
This recently happened in Houston, and unfortunately, the crash was fatal, killing a driver. The accident occurred on the morning of April 26 at the intersection of Fannin and Wichita streets.
The crash happened at 4900 Fannin Street in the Museum District. It all started when an 80-year-old man driving a GMC Jimmy was heading south on Fannin Street. He ran a red light at the intersection. At the same time, a Volvo XC60 had a green light. The vehicle entered the intersection and hit the GMC. The GMC rolled over due to the impact. The driver was ejected.
Paramedics responded, but the driver of the GMC died at the accident scene. The driver of the Volvo was not injured. The identity of the man is pending. The crash is still under investigation.
Why Do Drivers Run Red Lights?
Running red lights is not only illegal but unsafe. As seen in this case, the risk of an accident is greatly increased when a motorist fails to follow traffic signals.
But why do drivers run red lights? A lot of the time, they do so because they are in a hurry. They are running late and feeling impatient. These drivers think they can save some time by not following the law. However, this often comes with catastrophic or fatal consequences.
Some drivers simply cannot stop in time. This means that they are committing another crime: speeding. Speeding increases the distance needed to stop, so when a driver is going too fast, they have to make a decision: slam on the brakes or run a red light.
Inattention is also an issue. Drivers are often busy multitasking while behind the wheel. They may be using phones or other electronic devices. Some are busy eating or drinking. They could also be grooming, reading, or talking to passengers.
Weather conditions can also play a role. In ice or wet weather, a driver may be more reluctant to slam on the brakes, causing them to run red lights.
Drowsiness and alcohol use can also cause drivers to run red lights. These situations make a person less alert and slow down reaction time, increasing the risk of errors.
Contact a Personal Injury Lawyer
Traffic signals are in place for a reason. When drivers don't obey them, they can cause serious and even fatal accidents.
Have you been injured by someone else's negligence while driving on the road? If so, a Houston car accident attorney from The West Law Office, PLLC can help you get the medical care you need. Call 281-347-3247 or fill out the online form to schedule a free consultation.
Source:
abc13.com/fatal-crash-deadly-houston-traffic-fatalities-museum-district/13189112/