Bad Faith Insurance Practices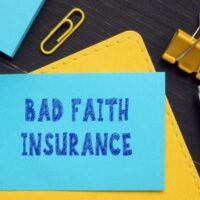 When a person gets in a car accident and they are covered by an insurance policy, they expect that the auto insurance will pay their claim without issue. However, this is not always the case.
Some insurance companies go back on their promises once a claim is filed. They may use various tactics to delay paying a claim or deny it altogether, even though the claim is clearly valid. This is called bad faith and it is illegal if the auto insurance company cannot come up with a valid reason to deny the claim.
Insurance companies may deny a claim using various tactics. Here are some common practices to look for so you can avoid being a victim.
Improperly Denying a Claim
An insurance company can deny a claim, but there must be a valid reason to do so. If the insurer denies your claim for no apparent reason and fails to tell you why, it has acted in bad faith.
Unreasonable Delays
It's normal that you may not hear from your insurance company for several days during the claims process. However, if weeks have gone by and you have left several messages with your insurance agent, with no response, then your insurer may be trying to delay your payment. This is considered bad faith, as you have a right to receive claim payment as quickly as possible.
Lowball Offer
Insurance companies lose money when they pay claims, so they are known for offering settlements for less than full value. However, if your insurer is offering a lowball settlement, then that would be bad faith. An example would be offering $10,000 to settle the case when your medical expenses alone have exceeded $50,000.
No Investigation
An insurance company is obligated to investigate your claim. If it decides to deny your claim without a thorough investigation, then that is considered bad faith.
Altering the Policy
In some cases, insurers may try to alter or even cancel your policy after filing a claim in order to deny the claim. This type of lie is considered bad faith. Because of this, it's always a good idea to keep copies of your insurance documentation.
Threats
This is rare, but some insurance companies may go as far as to threaten a claimant. An agent may call the person names or accuse them of things that are untrue. In these extreme situations, your best bet is to seek legal help right away and have a lawyer handle the case.
Contact a Personal Injury Lawyer 
While many insurance companies are truly in the business of helping customers with accident claims, some are known for bad practices. This can be frustrating when a person has a valid claim.
Count on the experienced Houston auto accident attorneys at The West Law Office, PLLC to help you deal with the insurance company. We are well aware of their common tactics and won't back down until you get fair compensation. Fill out the online form or call 281-347-3247 to schedule a free consultation.
Resource:
investopedia.com/terms/b/bad-faith-insurance.asp