Wrong-Way Driver Causes 5-Vehicle Crash In Houston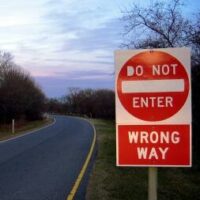 It's important to follow traffic laws at all times. When a motorist runs stop signs or drives in the wrong direction, serious and even fatal accidents.
Fortunately, a wrong-way crash in Houston did not cause major injuries, but it did involve five vehicles. The accident occurred on the afternoon of September 10 on North Wayside, near Clinton Drive.
The vehicle was traveling in the wrong direction when it hit five vehicles, including a vehicle driven by an off-duty police officer. One person was trapped in the wreckage. However, nobody sustained major injuries.
It is believed that one driver fled the accident scene. The crash is under investigation.
What Causes Wrong-Way Driving?
One wrong turn can turn an ordinary driver into a wrong-way driver. While many wrong-way accidents occur on freeways, they can also happen on city streets. While poor roadway design and vehicle defects can cause a person to drive in the wrong direction, the most common cause is driver error. The most common driver errors include the following:
Alcohol consumption. Being under the influence of alcohol can greatly affect one's judgment.
Elderly drivers often cause wrong-way accidents due to health issues, such as dementia or vision problems. They may also have physical limitations that make crashes more likely.
When a driver is not paying attention to the road, they are more likely to make mistakes. These mistakes may include driving the wrong way on a one-way street.
Unfamiliar roads. Wrong-way driving is more likely to occur when a motorist is driving on roads they have not driven on before. They may be detoured due to road construction or driving in a new area and they end up down an alley or the wrong way in a traffic circle.
Lack of warning signs. When there are no signs warning drivers of one-way roads, drivers can get easily confused. Obstructions such as trees and bushes can also hide traffic signs and warnings. Signs must be in clear view to warn drivers.
Common Injuries
Wrong-way accidents are highly likely to cause serious injuries and even death due to the impact involved. These incidents often involve head-on crashes, which are especially deadly. If a person survives this type of crash, they can suffer catastrophic injuries such as:
Traumatic brain injury
Paralysis
Internal injuries
Back and neck injuries
Broken bones
These injuries may require extensive treatment, such as hospitalization and surgeries. Many also cause lifelong complications as well as emotional damage such as pain and suffering and loss of enjoyment of life. 
Contact a Personal Injury Lawyer 
A multi-vehicle accident can cause serious injuries and even death. The drivers involved in this crash are very lucky to have only suffered minor injuries.
Get help with the Houston auto accident attorneys at The West Law Office, PLLC. We can assess your case and assist you with getting the compensation you deserve. Schedule a free consultation by filling out the online form or call 281-347-3247.
Resource:
abc13.com/wrong-way-driver-wayside-wrong-way-hpd-unit-hit-houston-traffic/11013011/