2 Killed In Houston Train, Car Crash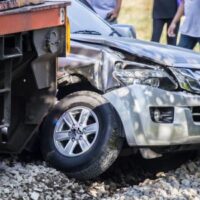 When you are close to a railroad crossing and the crossing arms go down and the alarm sounds, you need to stop. These protections are in place to keep you safe as a driver. If you ignore them, you could collide with a train and lose your life.
Sadly, this was recently the case in Houston, when a vehicle tried to outrun a train. The train won, killing two people.
The fatal crash happened on the evening of April 16. A Chrysler 300 was in the 7900 block of Van Hut Lane. At the same time, an Amtrak train was traveling west along the Beaumont Highway railroad. There were approximately 83 passengers on board.
The level crossing signals were activated. There were also flashing red lights and a bell to warn motorists of the oncoming train. The driver of the Chrysler, however, attempted to bypass the level crossing signal. They failed to yield the right of way and the Chrysler was subsequently hit by the train. The vehicle was forced into a nearby ditch.
The vehicle then caught fire and was engulfed in flames. Both the driver and passenger were ejected from the vehicle. They died at the accident scene. Two passengers from the train were hospitalized with unknown injuries. The crash is under investigation.
Train Crashes Involving Cars
When vehicles come upon railroad crossings, they need to act with caution. Railroad crossings are inherently dangerous, placing passenger vehicles directly in the path of speeding trains that may weigh a few thousand tons or more. More than 2,000 crashes happen at railroad crossings every year, with approximately half of them resulting in serious injuries. There are at least 200 deaths every year.
Car accidents at railroad crossings typically occur in one of two ways: either the car is hit on its side by an approaching train or the car hits the side of a speeding train in an attempt to outrun it. The latter situation is most likely to occur at night, especially if the railroad crossing is poorly lit.
Unfortunately, car-train accidents are often deadly. The weight and speed of the train can cause a car to spin around or roll over. It's possible for the vehicle to get completely crushed by the train.
Those who do survive these crashes will likely have catastrophic injuries, such as traumatic brain injuries, amputated limbs, or permanent paralysis from spinal cord injuries. Mental and emotional difficulties such as anxiety and post-traumatic stress disorder are also common.
Contact a Personal Injury Lawyer
Even with railroad crossing signals and alarms in place, many cars still collide with trains, causing fatalities. Train conductors cannot quickly stop and avoid accidents.
Whether you were involved in a minor or major accident, a Houston auto accident attorney from The West Law Office, PLLC can assist you with financial recovery. To schedule a free consultation with our office, fill out the online form or call 281-347-3247.
Source:
kwtx.com/2022/04/18/two-killed-after-driver-ignores-railroad-crossing-signals-collides-with-train/