1 Killed When Vehicle Collides With Tree in Houston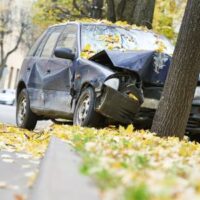 When driving, it's important to stay in your lane and stay on the road in general. Once you go off the road, anything goes. You could go into a ditch, hit a person, or collide with an object. If you hit a large, sturdy object, like a tree or a pole, the results could be disastrous and even fatal.
Sadly, this was recently the case in a Houston crash. A person was killed after colliding a van with a tree in north Harris County.
The fatal accident occurred in the early morning hours of September 30 at the intersection of Wild Oak Drive and Timberdale Lane. A person was driving a van when they went off the road for unknown reasons. The van collided with a tree and caught fire.
Harris County Sheriff's Office deputies and the Ponderosa Fire Department responded, but sadly, the driver died at the accident scene. They have not yet been identified. The driver was the only person in the van at the time. The accident is under investigation.
What Causes These Crashes?
Lately, there have been a lot of instances of vehicles going off roads and colliding with trees and other objects. Why are these accidents happening? Here are several main reasons:
Low visibility. Drivers often have a hard time staying on the road when their vision is impaired. Many of these off-the-road crashes happen late at night or early in the morning, when it is dark and harder to see.
Since these crashes happen in the dark, it's possible that the driver is also fatigued. They may be tired after a long day or just waking up after getting minimal sleep. Being overly tired makes accidents more likely to happen.
These crashes often happen at high speeds. This means the driver is going too fast, causing loss of control. Speed kills.
A person under the influence of alcohol or drugs is likely to drive erratically. These substances cause poor judgment, slower reaction times, vision problems, and other issues that can cause a person to drive poorly and possibly hit something.
Road hazards. It's possible that a driver could be swerving to avoid an animal, pothole, or other road hazard. This could cause the vehicle to go off the road and hit an object such as a tree.
Contact a Personal Injury Lawyer
Collisions with trees and other large objects can be deadly, as seen in this case. These are often solo-vehicle crashes caused by loss of control, so drivers need to maintain control of their vehicles at all times.
In a crash? Injured? See how a Houston auto accident attorney from The West Law Office, PLLC can assist you with your case. We can help you get the care you need to get back on your feet again. Fill out the online form or call 281-347-3247 to schedule a free consultation.
Source:
click2houston.com/news/local/2023/09/30/1-dead-after-van-crashes-into-tree-catches-fire-in-north-harris-county/