1 Killed in Box Truck Accident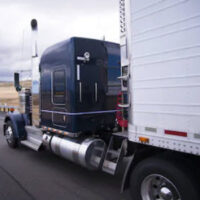 Car accidents can be deadly, especially when large vehicles are involved. A box truck was recently involved in a two-vehicle crash in Tomball, killing one person.
The fatal accident occurred on the afternoon of May 26 on SH-99. Two vehicles were involved in the crash, which happened in the 12000 block SH-99 in the eastbound lanes at Hufsmith-Kohrville Road.
No details were released on how the crash occurred. However, a box truck and another vehicle collided for unknown reasons. The other vehicle was damaged at both ends. One person died at the accident scene. It is unknown if anyone else was injured in the crash.
The eastbound lanes and the eastbound ramp of SH-249 were closed as law enforcement officials investigated the cause of the accident.
Dangers of Box Trucks
Box trucks are dangerous vehicles due to their size and weight. An empty box truck can weigh around 15,000 pounds.  While these trucks are larger and heavier than passenger vehicles, they are also lighter and easier to manage than a larger truck like a semi truck or a tanker truck. Still, they are heavy and likely to cause a lot of damage in a crash.
The main reason why accidents occur is primarily driver error. Box trucks are tall and long, which makes them susceptible to blind spots. They need more time and space to change lanes or even turn a corner. It also takes longer to brake. If drivers are not aware of these differences, then they can easily cause a crash.
Typically, no special license is required to operate a box truck. This means that a person who typically drives a compact car or pickup truck can easily get behind the wheel of a box truck without any prior training or experience. This can lead to a lot of danger on the roadway as the box truck driver tries to adapt to the length and weight of the vehicle.
Still, a box truck driver can be held liable for any accidents they cause on the roadway. In addition, the employer or trucking company can be held liable for allowing the person to drive the box truck without adequate experience or training. This is called negligence, and all accidents are caused by someone's negligence, whether it is a driver, employer, manufacturer, or government entity. Your lawyer can help you understand negligence in a car accident case.
Contact a Personal Injury Lawyer
Box trucks are heavy vehicles that can cause a lot of damage in a crash. Those involved are often seriously injured or killed.
The team at The West Law Office, PLLC understands how dramatic car accidents can be. They can be minor or severe, depending on the impact and vehicles involved. A Houston car accident attorney can help you through the process with ease. Fill out the online form or call 281-347-3247 to schedule a free consultation.
Source:
abc13.com/car-crashes-into-home-clear-lake-crash-manorhill-drive-house-fire-catches-on-after/13269431/