1 Killed as SUV Goes Off Bridge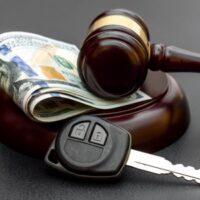 Driving is a task that requires alertness at all times. In an instant, a vehicle can be involved in a deadly crash.
Sadly, this was recently the case in La Marque. An SUV went off a bridge, killing a woman and seriously injuring four children. The fatal crash occurred on the evening of May 22 on I-45.
Police responded to a crash on the southbound Gulf Freeway, near FM 1765 and Delaney Street. A 26-year-old woman was driving a Ford Escape when she was speeding and lost control. The SUV hit a wall and flipped multiple times. The vehicle crashed over a railing, landing on the roadway below.
The woman died at the accident scene. There were four children inside the vehicle — two 3-year-olds and two 6-year-olds. They were taken to a local hospital, where they are all in critical condition.
Law enforcement officials found two car seats in the SUV. It is unknown if any of the children were in the car seats or were using seat belts. No other vehicles were involved in the crash.
The crash is still under investigation by the Galveston County Sheriff's Office.
When a Car Goes off a Bridge
When you think of a car going off a bridge, you may imagine water below. However, this is not always the case. Sometimes freeways traverse over bridges and roadways, so if your vehicle falls, it could land on a different road below. So while you may not have to worry about water below, you do have to worry about the impact caused by hitting a road or car below. Depending on the height of the fall, a bridge accident could be fatal.
Bridges are scary, since there is usually not a lot of room to maneuver. One wrong move could send your vehicle over the edge. Bridges are risky, with thousands of people killed in bridge accidents every year. However, you don't need to avoid them. Here are some dangers to keep in mind:
Chain reaction collisions. Because there is little room to maneuver on a bridge, chain reactions are common.
Forced overboard. There is a risk that your car may be forced over the edge in the event of an accident or excessive speed. This can cause your car to crash into an underpass or fall into a ditch.
Bridge collapse. Although rare, a lack of structural stability can cause a bridge to collapse under the weight. Vibrations can cause this to happen as well.
Contact a Personal Injury Lawyer
Being in a vehicle that is falling off a bridge can be a scary experience. Unfortunately, people don't usually survive these types of crashes.
Car accidents can happen suddenly, in a number of ways. Get the legal help you need from The West Law Office, PLLC. A Houston car accident attorney can assist you with physical and financial recovery. Get started by scheduling a free consultation. Call 281-347-3247 or fill out the online form.
Source:
click2houston.com/news/local/2023/05/23/passenger-dead-children-among-several-hurt-after-car-crashes-off-bridge-on-gulf-freeway-in-la-marque/