Woman Killed When Uber Is Hit By Truck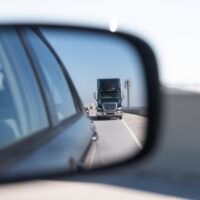 Many people use rideshare vehicles from Uber and Lyft to get from place to place. While these vehicles can be very useful for those who have no transportation or cannot drive for some reason, they are not without their risks. A woman was recently killed after being involved in a car accident while in an Uber vehicle.
The fatal crash occurred on the morning of November 20 in Houston. The woman was riding in a Mitsubishi Lancer as an Uber passenger when the vehicle started having mechanical issues on the Southwest Freeway. It became disabled and was rear-ended by a truck. The woman, who was sitting in the back seat, died at the accident scene. The woman was described as a "character" who worked as a security guard and played the ukulele.
The Uber driver, a 50-year-old man, was hospitalized with broken ribs. The driver of the truck, a 39-year-old man, remained at the accident scene. He was not injured in the crash. He does not face any criminal charges. Uber has not yet released a statement regarding the accident.
Crashes Involving Disabled Vehicles
If your vehicle has become disabled on the road, know that you face a high risk of injury or death. Crashes involving disabled vehicles kill hundreds of people every year. Thousands more are injured.
It's a huge problem that isn't talked about much, but it should be because it is a very dangerous situation. There should be information available about what a driver should do to make their vehicle more conspicuous and better alert other drivers in the event that their vehicle suffers mechanical issues while on the road and becomes disabled.
A huge majority of these crashes occur when a moving vehicle collides with the disabled one. However, most deaths occur when a pedestrian is working on the disabled vehicle or leaving or returning to it.
Therefore, you should follow these steps when your vehicle becomes disabled:
Pull over to the right shoulder.
Stay inside the vehicle until help arrives. Keep your seat belt on.
If you must exit the vehicle, exit on the right side, away from traffic.
You may want to turn on your hazard lights. However, keep in mind that they may attract drunk drivers.
When there is not enough shoulder space, get out of your vehicle and stay away from it.
Contact a Personal Injury Lawyer
It can be scary when a vehicle breaks down on a busy roadway. If the vehicle is unable to pull over to the side of the road, then it is at risk of getting rear-ended, which happened in this case.
Sadly, many car crashes result in serious injuries and death. Get the legal help you need from the Houston auto accident attorneys at The West Law Office, PLLC. We'll assess your case and hold the negligent driver liable for their actions. Contact us today at 281-347-3247. You can also fill out the online form to schedule a free consultation.
Resource:
abc13.com/houston-traffic-deaths-southwest-freeway-crash-uber-passenger-killed-woman-in/11263432/