2 Killed In Wrong-Way Crash In Houston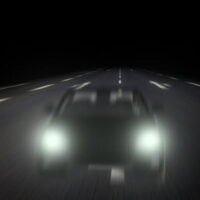 Traffic laws, signs, and signals are in place to regulate traffic flow. Vehicles need to be going in the right direction. When they go in the wrong direction, they can cause head-on accidents, which can be serious and even fatal for all involved.
Sadly, two people were killed in a recent wrong-way crash in Houston on Christmas day. The fatal accident happened on the morning of December 25 on U.S. 90 in the Crosby area. A Dodge Charger was traveling south in the northbound lanes on U.S. 90 when it hit a Toyota Tacoma head-on.
The driver of the Toyota, a 45-year-old man, was hospitalized with serious injuries, including a broken ankle. In the Dodge driving in the wrong direction were two occupants. A 58-year-old man and his passenger, an unidentified male child, died at the accident scene.
Wrong-Way Driving
Wrong-way driving occurs when a vehicle goes against the flow of traffic. It can happen on one-way or two-way roads, as well as in parking lots and parking garages.
Head-on crashes don't happen too often, but when they do, they are often deadly. Wrong-way driving is especially dangerous on freeways, since there are high speeds involved. A head-on crash at 60 miles per hour or faster can lead to fatality due to the impact involved. Slower speeds may result in less serious injuries, but the damage involved can still be significant.
Wrong-way driving can happen due to various reasons such as:
Distracted driving. A driver who is distracted may end up entering a freeway on the wrong ramp or driving in the wrong direction
Being under the influence of drugs or alcohol can impact judgment. You may think you are driving correctly when you're really traveling in the wrong direction.
Poor visibility. Driving at night results in reduced visibility. This lack of vision can cause drivers to miss signs and warnings and drive in the wrong direction.
When a driver is too tired, they should not be on the road. Fatigue can cause a driver to not pay attention and drive in the wrong direction.
Poor road design. A tricky road design with a lack of signage can make driving confusing, especially if the motorist is unfamiliar with the area.
Researchers also found that wrong-way accidents were more likely when a driver was intoxicated or driving alone. Also, age was a factor, with elderly drivers at high risk.
Contact a Personal Injury Lawyer
Wrong-way crashes often involve high speeds and can result in significant impacts. They can cause catastrophic injuries and even death.
At The West Law Office, PLLC, we understand that Houston can be busy. Accidents happen all the time. Let our Houston auto accident attorneys help you get the compensation you deserve for your injuries or a loved one's death. Contact us today to get started with a free consultation. Call our office at 281-347-3247 or fill out the online form.
Resource:
lick2houston.com/news/local/2021/12/25/two-dead-after-their-car-got-hit-by-vehicle-going-the-wrong-way-authorities-say/