Woman Killed In Houston Drunk Driving Accident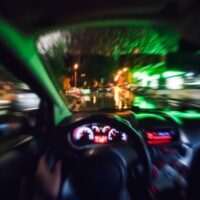 Drunk driving can be dangerous and even deadly. Unfortunately, drunk drivers often kill innocent people.
Such was the case in Houston, when a drunk driver crashed into pillars and killed a passenger.
The fatal accident occurred on the evening of March 11 on Fountain View Drive, near Westheimer Road.
A 40-year-old woman was driving a Toyota RAV4 when it left the roadway for unknown reasons and went into the median, crashing into pillars. There was also a 50-year-old woman in the vehicle as a passenger. The vehicle was damaged so badly that the Houston Fire Department had to cut the Toyota's doors to remove both women.
They were taken to a local hospital, where the passenger later died. The driver went into surgery and is expected to recover.
Police believe that the driver was under the influence of alcohol at the time of the crash, as she displayed behavior consistent with drunk driving. If she is found guilty, she'll face a charge of intoxicated manslaughter. There were no other vehicles involved and the driver did not attempt to brake or maneuver the vehicle in any way before the crash.
The Harris County District Attorney's Office is warning drivers to be extra cautious the next few weeks, as children across the state will be on spring break. This typically means that more people will be out and about on the roadways. Plus, more college students will be partying, which means more cases of drunk driving are likely to occur.
Texas' Campaign
Throughout March, the Texas Department of Transportation will run a Drive Sober. No Regrets campaign. The goal of the campaign is to spread awareness of drunk driving and hopefully scare drivers into staying sober by sharing real-life experiences of those impacted by drunk driving.
Having to continually deal with DUIs is frustrating for police. The truth is that drinking and driving is 100% preventable. There are many ways for those who have been drinking alcohol to avoid driving and get an alternative ride. Such options include rideshare companies, public transit, and designated sober friends.
A drunk driving injury or death can have serious physical, emotional, and financial consequences for a long time. Drunk driving has many other consequences as well, including significant financial and legal issues. Having a DUI on someone's criminal record can also make it hard for someone to keep a job and get a new one.
Contact a Personal Injury Lawyer
Drunk driving is a serious issue in Houston and other major cities throughout Texas. While it's great for people to take a break from the stresses of everyday life and have fun, they should do so responsibly.
Texas has the highest rate of DUIs in the country. If you have been involved in a drunk driving crash, let the Houston drunk driving accident attorneys at The West Law Office, PLLC help you with your case. Our job is to help you obtain maximum compensation. To schedule a free consultation, fill out the online form or call 281-347-3247.
Resources:
abc13.com/passenger-killed-driver-failed-to-brake-intoxication-manslaughter-westheimer/11646622/
khou.com/article/news/local/houston-galleria-deadly-car-crash/285-a8253dfd-1e8d-4954-91da-27260928ebc3