Why Do People Drive Drunk?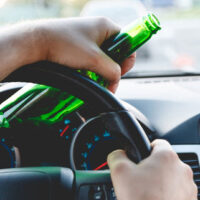 All motorists know that drinking and driving is illegal. They know it causes so many injuries and deaths. They know all the pain it has caused loved ones. So why do they do it?
Why would a person want to risk injury or death to themselves or someone else? Why would they risk losing their license? Why would they want to pay all the fines and lawyer's fees?
The truth is that a person doesn't intend to do any of that. It's the alcohol that makes their decisions for them. Alcohol affects their judgment and reasoning and causes them to do stupid things, like drive.
It still doesn't make things right, especially when a person's intoxication seriously injures or kills another person. A person needs to know their limits. They need to always have a backup plan. Attempting to drive after having multiple alcoholic drinks is only inviting disaster.
Reasons for Driving Drunk
There's no good reason to drive drunk. You could call a friend or family member to pick you up. You could call a taxi, an Uber, or a Lyft. If you're at someone's house, why not just stay there?
Not everyone makes the right decision. Here are some of the reasons why a person would drive drunk:
Altered perception due to intoxication
Feeling of confidence and relaxation
Thinking they can still drive safely with a buzz
Embarrassment of asking for a ride home
Forgetting how many drinks they had
Not knowing one's limitations
Not being able to judge their sobriety
Feeling safe from getting pulled over
The belief that everyone does it, so it's OK
Wanting to get somewhere in a hurry
Not feeling safe leaving their vehicle somewhere overnight
Thinking they can sober up quickly by drinking water or coffee, eating, or exercising
Preventing Drinking and Driving
If you plan to party, have a plan in place to get home safely. Is there a designated driver in your group? If not, do you have a family member you can call if you get drunk? Never try to drive yourself or get in a vehicle with a drunk driver. Instead, call a taxi or rideshare. Walk or ride the bus if you have to.
Even if you don't drink alcohol, you have a duty to prevent drinking and driving. Here are some things you can do to help:
Never pressure someone to drink alcohol.
When throwing a party, offer non-alcoholic beverages.
Never give alcohol to minors.
Hide the person's keys.
Offer a place to stay or a ride home.
Contact a Personal Injury Lawyer 
Drinking and driving is a serious legal issue that should never be taken lightly. Even a person who feels fine could actually be intoxicated.
If you or a loved one was injured or killed by a drunk driver, seek legal help from the Houston drunk driving accident lawyers at The West Law Office, PLLC. You should not have to suffer from the financial burden. We can help you get fair compensation. To schedule a free consultation, call 281-347-3247 or fill out the online form.
Resource:
ignitioninterlockhelp.com/blog/common-reasons-people-drink-drive/