Violent New Year's Day Crash In Houston Kills 3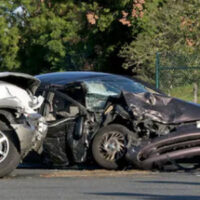 New Year's Eve is always a time for celebration: out with the old year, in with a new one. However, many people celebrate too much. They drink too much alcohol and instead of getting a ride home from a friend, family member, Uber, or Lyft, they drive home themselves, causing deadly car accidents.
Unfortunately, three people were killed and four others were injured in a violent crash in Houston on New Year's day. The fatal accident occurred on the morning of January 1 at Barker Cypress Road and Barkers Branch.
A Toyota RAV4, driven by a 32-year-old woman, was traveling on Barker Cypress, approaching the intersection with Barkers Branch. At the same time, a Toyota Sienna, driven by a 70-year-old, was making a left turn onto Barkers Branch.
The Sienna failed to yield before making a left turn and was hit by the RAV4. The six people inside the Sienna were not wearing seatbelts. As a result, three of them were ejected. Two died at the accident scene.
The driver of the Sienna and another passenger were taken to local hospitals. The passenger later died. Two additional passengers from the Sienna were airlifted to Memorial Hermann Hospital in critical condition. The driver suffered serious injuries but is expected to survive.
The driver of the Toyota RAV4—the sole occupant of the vehicle—was taken to Memorial Hermann Katy for medical treatment. She showed signs of intoxication.
While law enforcement officials believe the driver of a Toyota Sienna was at fault, the driver of the Toyota RAV4 was intoxicated, so she may share some of the blame. The crash is being reconstructed to determine if speed and the other driver's intoxication would have been factors in the accident. There is a possibility of criminal charges for either driver depending on the outcome of the investigation.
New Year's Eve/Day Car Crashes
Hundreds of people die every year in crashes during the New Year's holiday period. This holiday period can vary in length from 1.25 to 4.25 days, depending on when the holiday falls. In 2022, it extended from 6 p.m. on December 30, 2021 to 11:59 p.m. on January 2, 2022.
The holidays are a common time for car accidents. They are a time for travel and while many choose airplanes, many choose to travel by car, which has the highest fatality rate of all modes of transportation. Holidays are also a time for celebrations, and in many cases, this involves alcohol consumption. This is a major factor in automobile accidents.
Contact a Personal Injury Lawyer
There were many factors involved that made this crash deadly: failure to yield, intoxication, and not wearing seatbelts. A combination of all these led to fatality.
Driving is a task that needs to be taken seriously. When people don't follow the laws and drive recklessly, it can turn into accidents. The Houston auto accident attorneys at the West Law Office, PLLC can help you with your car crash case. Let us help you get the compensation you deserve. To schedule a free consultation, fill out the online form or call 281-347-3247.
Resource:
abc13.com/deadly-new-years-crash-three-people-killed-barker-cypress-fatal-accident/11413914/