Teen Killed After Hitting Power Pole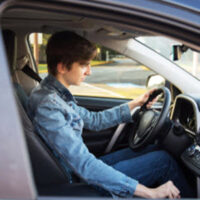 Many teens and young adults enjoy the freedom of driving. Driving gives them independence and allows them to get from one place to another with ease.
However, driving requires skill and alertness. A driver who is not experienced and not paying attention while behind the wheel can easily lose control and get into a crash. An accident can range from minor to catastrophic to even fatal.
A young driver was recently killed after colliding with a power pole in the Independence Heights area of Houston. The fatal accident occurred on May 4 at 38th and Yale streets.
The crash happened when a driver hit a pole at the corner. The car continued south and hit a tree. The cause of the crash is unknown.
There were four people inside the car — two women and two men. The driver was a 19-year-old woman. She died at the accident scene. A 17-year-old boy and an 18-year-old woman were taken to a local hospital with minor injuries. The fourth person was a young man, 18 years old, who was not injured. The accident is still under investigation.
Risks of Teen Driving
Teens don't have the level of experience that adults do. This inexperience can lead to serious accidents. Combined with a lack of skill and maturity, teen drivers have a higher rate of fatal crashes. Teens are also known for bad driving habits. They speed and make mistakes. They also get distracted easily, especially if their friends are in the car.
In fact, one of the biggest issues involving teen driving is distracted driving. The most common distraction is texting. One third of teens have admitted to texting while driving. This is a serious issue, as texting while driving increases the risk of getting into a crash by 23 times.
However, distracted driving can involve much more than texting and talking on the phone. Many teens are also distracted by eating, drinking, reading, changing radio stations, and applying makeup. Passengers can also cause distractions, as they take the driver's mind off the task of driving.
Parents can do their part to keep their teens safe when behind the wheel. They have a lot of influence on their teens, so they should strive to be a good example by being a safe driver. They should get involved with their teens' driving habits from the beginning and be a good role model. This means paying attention to the road and keeping their hands off phones and other devices that could lead to distractions. This also means being respectful to other drivers and not speeding or driving aggressively.
Contact a Personal Injury Lawyer
Teen driving is not always safe. Distractions and inexperience can lead to fatal accidents.
Injured in a crash? Has a loved one been killed? A Houston car accident attorney from The West Law Office, PLLC can assist you with your case. Call 281-347-3247 or fill out the online form to schedule a free consultation with our office.
Source:
fox26houston.com/news/teen-driver-killed-after-crashing-into-power-pole-tree-with-3-others-inside-car