Road Safety After A Car Accident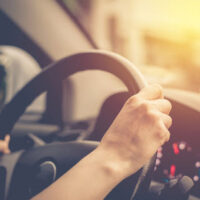 Houston is a busy area. There are roughly 5 million vehicles registered in the area. While agencies like the Department of Transportation work hard to keep cars moving, there is usually a lot of traffic in Houston and the surrounding areas. This makes accidents more likely to occur, and they can slow down traffic as well.
Another thing that can cause a slowdown at the most inopportune time is breakdown. Whether you have been involved in an accident or your vehicle has broken down, you need to be aware of secondary crashes. These accidents occur after the first event. So while you may think you're good after surviving an initial crash, the truth is that many people are seriously injured or killed after a second accident occurs.
A person's risk of injury or death increases every minute they are stuck on the road. That's because many drivers are distracted. They may not know your vehicle is not running until it's too late. Therefore, you need to know how to ensure your safety after your vehicle is disabled on the roadway. Here are some tips to keep in mind.
Get Your Car Off the Road
Don't start working on your car in the middle of the road. That's very dangerous, especially on a highway with drivers possibly exceeding 80 miles an hour. Try to get your car completely off the road if possible. At the very least, get it onto the right shoulder so you're not in harm's way. If you can't, turn on your hazard lights to warn other drivers.
Stay Inside Your Vehicle
Don't try to cross the freeway to get help. Instead, stay inside your vehicle with your seat belt on. Wearing a seat belt protects you if a car does hit your vehicle.
Exit Safely
If you do need to get out of your vehicle to check a tire or other car part, do it safely. If you are on the right shoulder, exit on the passenger side so you're not near the road.
Get Help
If you are injured, call 911 for assistance. If your vehicle is inoperable, the Tow and Go Program will tow it for free to a safe location. The program is available on most highways in Harris County. Call them at (713) 881-3333. There is also the Motorist Assistance Program, which is run by the Harris County Toll Road Authority. You can call them for free assistance at (281) 584-7500.
Contact a Personal Injury Lawyer
After a crash or breakdown on the road, you need to ensure your safety. Many subsequent accidents occur after these events, so knowing what to do is very important.
Car crashes can cause significant injuries. Seek legal help from a Houston auto accident attorney from The West Law Office, PLLC. We'll give you customized legal advice tailored to your unique situation. Schedule a free consultation today by filling out the online form or calling 281-347-3247.
Source:
abc13.com/houston-road-safety-who-to-call-if-you-wreck-your-car-towing-near-me-driver/12483284/