Parking Lot Accidents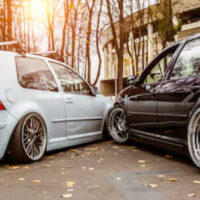 Even though we are in a pandemic, you can expect stores to be a lot more crowded as we enter the holiday season. People are primarily on the hunt for food and gifts this time of year, and this can lead to crowded parking lots. With many more vehicles crammed into a small space, you can expect that parking lot accidents will be on the rise.
Believe it or not, parking lots account for 50,000 crashes annually. In addition, roughly 500 people are killed in crashes in parking lots and garages every year. Most of these crashes are caused by distracted drivers, who should be paying extra caution as they avoid hitting children and other pedestrians. But phones cause a discretion to not only motorists, but pedestrians as well.
If you are involved in a parking lot accident, you need to know the steps to take. Here are some tips for dealing with crashes and car damage.
When You Damage a Car
Never leave an accident scene, no matter how minor. Even if you scratch a car by opening your door too wide, you should leave a note with information such as your name and phone number. If the damage is more severe, you should attempt to find the owner of the vehicle. You could ask the customer service department of the store to make an announcement over the loudspeaker. You could also call the police if the damage is extensive. A police officer can help you locate the driver.
If you leave the scene without trying to contact the owner, you could be implicated through the store's surveillance video. It's possible that a customer could have witnessed the accident as well. You could then potentially face hit and run charges.
When Your Car is Damaged
If you come out of a store to find your car damaged, first look for a note. Is it possible that the driver is still around? You may want to ask people in the vicinity if they witnessed a crash. You can also go back inside the store and ask for security footage so you can identify the driver who hit you. If you can locate the driver in the parking lot, get their name, phone number, driver's license number and insurance information.
If you cannot locate the driver, get photos of the damage and call your insurance company. They will inform you of the next steps.
Contact a Personal Injury Lawyer
Be wary when driving in parking lots during the holiday season and any time of year, for that matter. Parking lots may seem easy to navigate, but there are many hazards at play.
If you have been a victim of a parking lot accident or any type of crash, get help from the Houston auto accident lawyers at The West Law Office, PLLC. Even a seemingly minor fender bender in a parking lot can lead to major injuries. Schedule a free consultation by calling 281-347-3247 or filling out the online form.
Resources:
statefarm.com/simple-insights/auto-and-vehicles/how-to-deal-with-parking-lot-accidents
ehstoday.com/safety/article/21917821/black-friday-alert-driving-through-a-parking-lot-is-still-driving#:~:text=On%20average%2C%20more%20than%2050%2C000,be%20even%20riskier%20this%20year.