New Study Shows That Teenagers Who Have Poor Working Memory Are Dangerous On the Road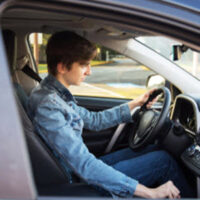 A new study has found that drivers who score worse on tests that test for short-term memory also tend to get into more auto accidents. As a result, the scientists behind the study are now calling for these types of tests to be distributed to those seeking a driver's license. The study comes in the midst of dire statistics from organizations such as the Center for Disease Control and Prevention, which show that that auto crashes are not only the leading cause of death in the United States for teenagers, but that six teenage drivers die on the roads every day. Statistics also show that crash rates are highest during the first six months of driving.
And, sadly, it isn't just the drivers that are affected: More than half of all children between the ages of eight and 17 who die in auto accidents are in a car driven by someone under the age of 20.
The Study
The study puts forth a simple proposition that some teenagers simply are not ready to drive. This is because driving places demands on your working memory and relies on you keeping track of what has happened – and what is happening – monitoring, scanning, constantly updating information about the environment around you – all while managing multiple tasks – in order to decide what to do next. For example, driving relies on constantly checking your speed, reading road signs, keeping track of drivers around you; all at the same time while perhaps tracking a GPS however, etc. Working memory is a work in progress for adolescents. There is no question that once a driver reaches age 20, their rate of auto accidents drops dramatically.
One aspect of these studies is the "two-back" test, which tests your memory of images that you have been presented with. Those who showed a slower rate of improvement in terms of memory and remembering what images they had seen were significantly more likely to get into an auto accident within the first three years of getting their driver's license.
How to Make Our Roads Safer
These results, the researchers indicate, should be taken into account in terms of doing routine assessments to identify at risk drivers, and intervene. One of the most important factors include attention and driving skill deficits due to insufficient working memory. Previous studies have also demonstrated that there is a link between lower working memory capacity and inattentive, reckless driving.
If You or A Loved One Has Been Harmed by Another Driver, Contact Our Texas Auto Accident Attorneys
If you have been in an auto accident that was someone else's fault, and have suffered, contact our Houston auto accident attorneys at The West Law Office today to find out how we can help.
Resource:
jamanetwork.com/journals/jamanetworkopen/fullarticle/2749784?utm_source=For_The_Media&utm_medium=referral&utm_campaign=ftm_links&utm_term=091319
/study-shows-that-contrary-to-popular-belief-everyone-is-engaging-in-distracted-driving/