Motorcyclist Killed In Houston Crash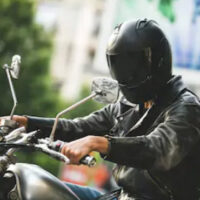 All motorists need to be careful when on Texas' roadways. Houston is known for heavy traffic at times, so it's imperative that drivers be careful, whether they are operating a car, truck, or motorcycle.
Motorcycles need to be especially careful, as one wrong move can lead to fatality. Sadly, this was the case in Houston, when a motorcyclist rear-ended a vehicle. The rider was ejected and killed.
The fatal accident occurred on the morning of May 13 on the I-45 North Freeway at Gulf Bank Road. The rider, a 47-year-old man, was riding his motorcycle on northbound I-45 when he rear-ended a Porsche Boxster. He was ejected from his motorcycle. He died at the accident scene. The driver of the Porsche, an unidentified woman, and her passenger were not injured. She was questioned and later released.
The freeway was shut down for several hours. The crash is under investigation.
Causes of Motorcycle Accidents
Motorcycle accidents can be caused by riders or other motorists. While many are caused by other motorists who cannot see motorcycles as well due to their small size, motorcycle riders may cause their own crashes due to a variety of factors such as the following:
Many motorcycle riders like to take risks, and this includes speeding. However, going too fast makes it harder for a rider to stop, which can lead to rear-end accidents.
Motorcycle riders may drive while under the influence of alcohol or drugs. These substances can cause decreased reaction times, poor judgment, and other issues that can lead to an accident.
Riding a motorcycle is not easy. It's a lot different from driving a car. Without the right experience, a person can easily get into a crash and suffer catastrophic injuries.
Road conditions. Motorcycles can easily lose balance, as they have just two wheels instead of four. Potholes, oil slicks, puddles, leaves, and other debris can cause a motorcycle to lose control.
Weather conditions. Rain, snow, and ice create treacherous conditions for motorcycle riders. Powerful gusts of wind can also be dangerous, possibly pulling a rider off the motorcycle and onto the road.
Poor maintenance. Motorcycles need to be well-maintained. This means getting new tires and brakes as needed as well as checking oil and other fluids and components. Without proper maintenance, a motorcycle is less likely to perform well, causing a major crash. Keep in mind, though, that some part failures may actually be defects. In these cases, the manufacturer can be held liable for any damages caused by an accident.
Contact a Personal Injury Lawyer
Motorcycle accidents can be deadly, especially when larger vehicles are involved. Getting ejected from a motorcycle is also a recipe for disaster.
A Houston motorcycle accident attorney from The West Law Office, PLLC can assess your case and discuss your legal rights and options. To schedule a free consultation, fill out the online form or call 281-347-3247.
Source:
abc13.com/deadly-motorcycle-crash-north-freeway-gulf-bank-road-car-hits-motorcyclist/11844381/