Man Killed By Speeding Car On First Date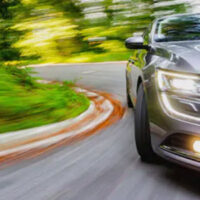 Many people have first date horror stories that they would rather not relive. They may include dates on their phones their whole time or expecting them to pay the tab. Maybe the person you are on the date with was just a jerk.
One Texas couple had a horrific first date, but not for any of those reasons. The man and woman were walking down a road when a vehicle traveling at approximately 100 miles per hour hit the man and killed him. The fatal accident occurred in the early morning hours of April 19 outside Voodoo Doughnut in Montrose.
The incident happened near Westheimer Road and Waugh Drive. The woman on the date relayed what had happened that evening before the fatal crash. The couple had gone to karaoke at AvantGarden. When they got out, the taco truck was closed, so they decided to go to Voodoo Doughnut, a donut shop. The two decided to walk, since it wasn't that far.
The couple had just left the donut shop and were on the sidewalk when the woman saw a Porsche coming at them at a high rate of speed. She saw a flash and then tried to find the man she was with.
It is believed that the driver was going around 100 miles an hour before crashing into the couple. Surveillance video shows the woman behind the wheel of a Porsche going fast and unable to navigate the curve on Westheimer Road. The Porsche then hit the curb and then the couple.
The woman felt something graze her hip. She wasn't sure if it was the car hitting her hip or her date as he was hit. The woman called 911 and performed CPR until paramedics arrived.
Sadly, the man died at the accident scene.
After the car slammed into the man, the Porsche continued on before crashing into a utility pole.
There were three people in the Porsche, and a 33-year-old woman was allegedly behind the wheel. There was another woman in the front passenger seat and a man in the back seat.
The two women were stable, while the man was unconscious. According to police, the driver showed signs of impairment. She faces charges of intoxication manslaughter.
The woman was obviously shaken about what happened. She said the man seemed very sweet and loved his family. Getting hit by a car was a horrible way for him to die.
Contact a Personal Injury Lawyer
Car accidents can be severe, especially at high speeds. A vehicle going 100 miles per hour can easily kill a pedestrian, as seen in this case.
A Houston car accident attorney from The West Law Office, PLLC can assist you with filing a civil suit, whether or not the negligent party was criminally charged. Schedule a free consultation with our office today by filling out the online form or calling 281-347-3247.
Source:
abc13.com/westheimer-deadly-crash-outside-voodoo-donut-shop-montrose-speeding-car-hits-pedestrian/13154141/