Man Dies After Grabbing, Falling Off Moving Vehicle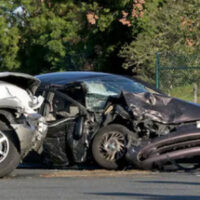 If someone grabbed onto your car while you were stopped at a stop sign or red light, would you notice? What would you do? A man in Houston recently did this to a vehicle and the driver kept on going. The man eventually fell off the car, leading to fatality.
This event happened on the evening of September 8 in the 9500 block of West Montgomery Road in the area of Acres Homes. The man grabbed onto the vehicle while stopped at a red light. Witnesses saw the man, but it's likely that the driver did not.
The man fell off the car and was left in the road for dead. The car kept on going. A passerby saw the man in the road and called 911. The man was taken to a local hospital, where he later died.
Nobody was able to get a description of the vehicle, likely because it was dark at the time. Police are looking for surveillance video that may have caught footage of the incident.
Falls From Vehicles
When discussing falls from vehicles, we usually refer to objects falling from vehicles, such as unsecured loads. When this happens, and a crash occurs, the driver of the vehicle with the unsecured load is typically at fault.
People do not usually fall from vehicles. When they do, it is typically in a work context, with drivers or passengers falling from trucks or tractors that they are driving as part of their job duties. In these cases, the victim can suffer a variety of injuries, such as sprains and broken bones. In many instances, though, if the vehicle is in motion, the person is run over and killed.
When a person falls from a vehicle in any other context, it is most likely due to reckless behavior. That's because when a person is inside a vehicle, they are usually restrained by a seatbelt. If they are hanging outside of a vehicle, this is an unusual situation. The person may be trying to commit a crime such as carjacking. While drivers should not let the person inside the vehicle, they should still call for help if the person falls off the vehicle. But when a person is driving, they are typically focusing on the road in front of them, so it's quite possible that they don't even know the person is in their vehicle. It's a weird and unusual situation that most drivers are not prepared for.
Contact a Personal Injury Lawyer
Accidents can occur in various ways, but it's rare for a person to suddenly grab onto a vehicle unless they were looking to commit some sort of crime. It would be even more rare to be able to hold on without falling and getting seriously injured or killed.
If you have been involved in a crash, make sure you understand your legal options. A Houston auto accident attorney from The West Law Office, PLLC can help you get the compensation you deserve for your injuries. Learn more by scheduling a free consultation. Call 281-347-3247 or fill out the online form.
Source:
abc13.com/man-grabs-onto-moving-car-acres-homes-crash-dies-after-falling-off-vehicle-houston-police-investigation/12215921/