Lawmakers Move Forward in Trying to Get Ahead of Drunk Driving Incidents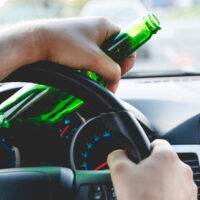 Every day in the U.S., almost 30 people die in drunk driving accidents (the equivalent of 11,000 in 2017 alone). That equates to one death about every 48 minutes.  As a result, a number of lawmakers have now proposed legislation, called the "Reduce Impaired Driving for Everyone ("RIDE") Act, at the national level that would mandate that every new car sold on the market feature technology that prevents the car from starting if the driver registers as being legally drunk. This could be accomplished via a number of technology mechanisms (i.e. "passive detection systems") that are currently being tested by the National Highway Traffic Safety Administration, such as a push-button ignition or devices in the steering wheel that measure blood-alcohol content, sensors that monitor breath and eye movement, the Driver Alcohol Detection System for Safety, and others. If the bill passes, within four years of the legislation passing, new cars would have to include the technology, and millions in funds would be committed for the purpose of government testing for more.
The move is part of a larger effort to go beyond the liability of the individual drunk driver, and make more of a community effort to help ensure that drunk drivers never make it onto the roads in the first place.
Others Who Can Be Held Responsible in Drunk Driving Litigation
When it comes to lawsuits brought in connection with drunk driving incidents, they are frequently not only brought against the driver, but against the facility that over-served the drunk driver alcohol and any insurance companies involved that failed to fulfill their legal duties in connection with the accident, as was the subject of a negligence lawsuit filed earlier this month here in Texas. The plaintiff alleged that their insurance company (Geico) failed to execute a quick and fair claim in good faith.
And in a novel, somewhat new legal argument recently brought against the state of Oregon, the state was sued by a man who lost his wife in a head-on collision with a drunk driver on the Interstate, arguing that the state Department of Motor Vehicles never should have provided a driver's license to the driver responsible. Instead of going to trial, the state agreed to settle the claim for $500,000.
Have You Been Harmed by A Drunk Driving Accident in Texas? Contact Our Houston Personal Injury & Accident Attorneys
The grief often never disappears for surviving family members and friends left behind after a fatal drunk driving accident. By filing a lawsuit, families often feel that they are holding those responsible accountable and helping to ensure that it doesn't happen to another family, especially when it comes to facilities and other parties that do not do enough to keep our roads and highways safe by keeping drunk drivers off of them.
If you or a loved one has been harmed or killed in a drunk driving accident here in Texas, contact our Houston drunk driving accident attorneys at The West Law Office today to find out how we can help you obtain justice.
Resources:
mailtribune.com/news/top-stories/oregon-lawsuit-drunk-driving-crash-duii-fatal-karen-greenstein-jackson-county-wrong-way-driver
cnet.com/roadshow/news/drunk-driving-technology-us-mandate/
https://www.houstonpersonalinjury.law/fifth-circuit-court-of-appeals-diverges-from-texas-supreme-court-decision-in-finding-that-injured-driver-can-collect-punitive-damages-from-drunk-drivers-insurance-company/