Car Crashes Into Furniture Store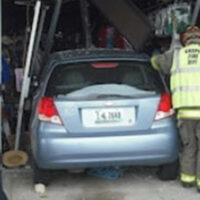 The last thing a business owner wants is a vehicle to come crashing into their store. Such an incident can cause a significant amount of damage that can be costly to fix.
Unfortunately, this type of incident recently happened to a Houston furniture store. The accident happened on July 1 at Fondren Road and Richmond Avenue. The owner was helping a customer when a woman driving a Mercedes-Benz crashed into the store. The owner was sitting at his desk at the time and claims he is lucky because otherwise he likely would have suffered injuries in the crash.
Fortunately, no one was injured, although many antique pieces were damaged. The vehicle was pulled out of the store and the owner and his employees have been working to clean up the damage.
It's unknown exactly how the woman lost control of the vehicle, but she told the store owner her brakes did not work. Police have not confirmed this, though.
Crashes Involving Buildings
Car accidents involving buildings may seem like rare events, but the truth is that approximately 100 of them happen every day. These accidents injure 16,000 people and kill more than 2,000 people every year. While a vehicle can crash into any type of building, convenience stores seem to face the highest risk. 7-Eleven stores face a particularly high risk, for unknown reasons.
More than 40% of these crashes are caused by confusion by the driver, particularly mistaking the accelerator for the brake. This is called pedal error and it tends to happen when the vehicle is traveling at low speeds. However, pressing the accelerator speeds up the vehicle and can result in serious crashes. Pedal error incidents tend to happen in parking lots, which means there are often many vehicles and pedestrians nearby. This increases the chance of significant damage and injuries.
What to Do When Brakes Fail
While it does not happen often, brake failure while driving can be a scary situation. Your first thought may be to panic, but by staying calm, you can stay safe and avoid a serious accident. Here are some things you should do when your brakes suddenly fail:
Take your foot off the gas.
Turn on your hazard lights and honk your horn to warn other drivers.
Turn off cruise control and downshift slowly.
Pump the brake pedal hard and fast, since most modern vehicles have dual braking systems and by doing this, you may be able to slow down quickly.
Apply the emergency brake carefully so you stay in full control.
Steer yourself to safety by getting to the side of the road.
Contact a Personal Injury Lawyer
Crashes into buildings happen often and tend to result in serious injuries. Fortunately, nobody was injured in this case.
A Houston auto accident attorney from The West Law Office, PLLC can help you after any car crash, big or small. Fill out the online form or call 281-347-3247 to schedule a free consultation.
Source:
khou.com/article/news/local/car-crashes-into-houston-furniture-store/285-86a9301d-a24b-473c-ae8b-0f803503045b