Car Crash Causes Fire, Warehouse Damage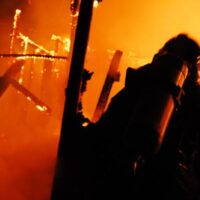 Car crashes are sometimes minor to the vehicle occupants, but they can lead to a lot of other damage. This is what recently happened in Houston, when a rollover crash caused a fire, which burned down a warehouse.
The accident happened on the evening of July 11 on Mitchelldale Street. A vehicle rolled over for unknown reasons, causing a fire. The vehicle became engulfed in flames. The car was close to a warehouse, causing it to catch fire as well. The warehouse was full of Styrofoam and construction materials.
The driver was able to exit the vehicle safely. Her injuries are unknown. She was taken to the hospital as a precaution. There was no update on her injuries. No hazardous materials were detected in the fire or smoke.
Why Do Cars Catch Fire After a Crash?
You may hear about vehicles sometimes catching fire after a crash, but why? In many cases, they are caused by contact with the fuel in the vehicle but they can also be caused by defects. Here are some common causes:
Leaking fuel tanks and lines. Poor fuel tank positioning and defective fuel lines can be dangerous. Leaks and ruptures can occur during an accident, causing a raging fire. Leaking fuel and oil can quickly ignite when exposed to a spark or super hot metal. Fuel fires often begin under a vehicle or on the street surface below and spread quickly.
Electrical system failures. Electrical fires often begin in or around the dashboard. Many vehicles have extensive wiring that can be damaged in an accident. Faulty wiring in ignition systems can also spark fires.
Severe engine failures. Many car fires start in the engine compartment. A defect or failure may be to blame.
Faulty batteries. When a battery is not designed correctly, corrosion can form on terminals. Corrosion is highly flammable, making fires likely.
Exploding airbags. While airbags are meant to deploy in an accident, some may explode as well.
Mechanical defects. A defective part may cause the vehicle to explode.
When a vehicle fire erupts, occupants need to get out of the car as quickly as possible. Fires tend to spread quickly, which means there is a high risk of burns and other injuries. It is also possible for people to develop serious illnesses due to inhalation of toxic gasses.
When a fire is caused by a defective part, the manufacturer may be held liable. A personal injury lawyer can assess your case and determine liability.
Contact a Personal Injury Lawyer
Unfortunately, car crashes often cause a chain of events, such as other crashes, fires, and property damage. It's important that those affected get proper compensation.
Seek legal help from a Houston auto accident attorney from The West Law Office, PLLC. We can assist you no matter the size of the crash. To get started, schedule a free consultation. Call 281-347-3247 or fill out the online form.
Source:
khou.com/article/news/local/rollover-crash-warehouse-fire-northwest-houston/285-b1eb5cec-215a-4d3d-b72d-d952042345c0