Auto Insurance In Texas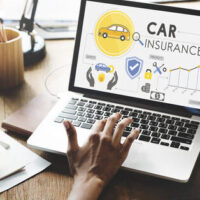 Cars come with a lot of expenses. Owning a vehicle involves gas, oil changes, new tires, regular maintenance, and registration. Let's not forget one main expense—insurance.
Insurance is a requirement in Texas. It is used to pay for damages caused by a car accident. However, it is a huge expense, with full coverage costing $1,823 per year on average. This is above the national average, with cities like Dallas and Houston costing even more.
Many drivers decide to forego this expense and don't get insurance at all. In fact, millions of Texas drivers are without auto insurance. Not having auto insurance can result in penalties, including fines up to $350.
There are many types of insurance coverage to consider, but for Texas, you will, at the minimum, need to demonstrate financial responsibility in the event of a car accident. This is often done by purchasing liability insurance. Here's what you need to know before you get behind the wheel of a vehicle in Texas.
Texas Car Insurance Requirements 
Texas follows the 30/60/25 rule, which includes the following: 
$30,000 for bodily injury liability per person
$60,000 to pay for bodily injury when two or more people are injured in a car accident
$25,000 for property damage per accident
If you are financing your vehicle and still owe money on it, you will also be required to buy comprehensive and collision coverage. Also, keep in mind these are just the minimum amounts and you can always purchase more coverage.
Types of Insurance
Besides liability insurance, there are other coverages to consider:
This coverage pays for damage caused by animals, as well as by fire, flood, or vandalism.
This coverage pays for repair or replacement of your car after an accident.
Medical payments. This coverage pays for medical bills due to injuries to you and your passengers.
Personal injury protection (PIP). Like medical payments coverage, it pays for medical bills, as well as lost wages and nonmedical costs. All auto policies in Texas include this coverage, but you can decline it in writing.
Uninsured/underinsured motorist. This coverage pays for damages if you're hit by a driver who does not have insurance. It also covers hit-and-run accidents.
Roadside assistance. This coverage pays for breakdowns while driving and covers things such as flat tires, jump starts, and towing.
Rental reimbursement. This coverage reimburses you for renting a car if yours is being repaired or stolen.
Contact a Personal Injury Lawyer
Auto insurance is a requirement in Texas. While it may be expensive, it covers your vehicle in the event of vehicle damage. Keep in mind that damage to your vehicle can happen at any time, whether it be a crash, hail storm, flood, fire, hurricane, or theft.
Having problems with your insurance coverage or insurer? If so, contact the Houston auto accident lawyers at the West Law Office, PLLC. We can help you get the most compensation possible based on your coverage. Schedule a free consultation today by filling out the online form or call 281-347-3247.
Resource:
bankrate.com/insurance/car/average-cost-of-car-insurance-in-texas/