1 Killed, 1 Injured In Houston Crash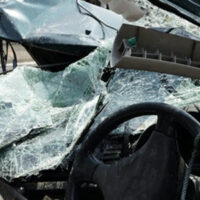 While many Houston car crashes are minor, some unfortunately result in fatal outcomes. Sadly, this was recently the case when a teen was killed in a two-vehicle accident.
The 16-year-old girl was killed when the vehicle she was a passenger in collided with another in southwest Houston. The fatal accident occurred on the evening of September 17 at 13900 Buffalo Speedway, near Darlinghurst Drive.
The accident occurred when a vehicle was crossing the northbound lanes of Buffalo Speedway. It was hit by a Dodge Ram pickup that was allegedly speeding. The impact caused the pickup to lose control. It went over a concrete curb and landed into trees in the median. The 16-year-old girl, who was a passenger in the Ram, died at the accident scene. The driver of the other vehicle remained at the accident scene.
Speeding Among Teens
Many young drivers have the need for speed. They think going fast is cool—until they get into an accident. Speeding is a critical issue. In 2019, it accounted for 27% of fatal crashes involving teen drivers.
Teens' tendency to speed often increases over time. This is possibly because they gain confidence and feel safe when traveling at high speeds. However, teens need to be aware of the dangers involved. They also need to understand the importance of adjusting their speeds when driving in inclement weather and dealing with traffic, road construction, and winding roads.
Teens are more likely to speed and engage in other risky behaviors when driving with teen passengers. Because of this, newly licensed Texas teens need to be aware of the restrictions involved with  a provisional license. A provisional license is one that a teen has until they turn 18. Until they become an adult, they are prohibited from the following:
Driving with two or more passengers who are under 21, excluding family members.
Driving between midnight and 5 a.m. excluding driving due to school-related functions or work.
Driving while using a phone or other mobile device, even one that is hands-free.
Parents can do their part to reduce speeding by their teen drivers by doing the following:
Be involved. Teach your teen how to drive. Focus on safe speeds and teach your child the dangers of speeding.
Be a good role model. Teens learn from their parents. Do you drive too fast? If so, slow down and adhere to the speed limit. Model the behavior you want your kids to follow.
Give your teen the family car. Teens are less likely to speed in a family car that's not a high-performance vehicle. So hold off on buying a Camaro or Mustang until they have some experience under their belt and have proven themselves with good driving and good grades at school.
Contact a Personal Injury Lawyer 
Car crashes can be deadly, especially when teen drivers are involved. A lack of experience, skill, and judgment can lead to deadly accidents.
What are your legal rights as a driver or passenger in a vehicle? The Houston car accident attorneys at the West Law Office, PLLC can assess your situation and help you understand what you are entitled to receive. Schedule a free consultation today by calling 281-347-3247 or filling out the online form.
Resources:
abc13.com/buffalo-speedway-crash-one-person-killed-deadly-accident-w-orem-drive/11029479/
nhtsa.gov/road-safety/teen-driving