2 Killed In Houston When Driver Runs Red Light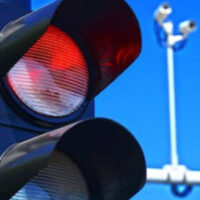 Red light runners can cause serious accidents. They don't have the right of way, so they can T-bone another vehicle, causing a fatal crash.
Sadly, this was recently the case in Houston. On the evening of February 10, a Chevrolet Silverado ran a red light on the Highway 290 feeder road at the intersection with Hollister Road. Two people were killed in the crash.
The Silverado collided with a Honda Civic at the intersection. The Civic landed on top of the Silverado. It then hit a curb and rolled over several times.
The passenger in the Silverado, a 23-year-old woman, was ejected due to the impact. She was taken to a local hospital, where she later died from her injuries. She was the mother of a 9-month-old baby.
The driver of the Civic, a 25-year-old man, was also killed in the accident. He died at the accident scene. He was coming home from his job at Daily Gather restaurant at the time of the crash.
The driver of the SIlverado, a 28-year-old man, was the woman's husband. He admitted to not being able to stop in time. He survived the crash and is currently hospitalized. No alcohol was involved. It is unknown if he will face criminal charges for his role in the crash and subsequent deaths. The case was referred to the Harris County District Attorney's Office.
Red Light Running 
A red light violation occurs when a vehicle enters an intersection any time after the light has turned red.  When a vehicle is already in the intersection when the light changes to red, it is not considered a violation.
Some people think nothing of running red lights. This act happens frequently and causes serious injuries and death. Hundreds of people are killed every year in red light accidents, and another 100,000 are injured.
Red light running is a serious matter, but police enforcement at every intersection is impossible.
Many cities have red light cameras in place, and they have done some good. They have reduced the rate of red light running by roughly 20% in some larger cities.
Many people have issues with these cameras, claiming that they violate privacy. However, this is not true. Driving is a regulated activity. In order for a person to be given a driver's license, they must abide by certain rules. Red light cameras are a way to enforce the laws, just like police officers are.
Contact a Personal Injury Lawyer
Traffic signals are in place for a reason. When a driver runs a red light, it can have dangerous and even deadly consequences.
Have you or a loved one been injured or killed by a red light runner? If so, count on the Houston auto accident attorneys at The West Law Office, PLLC to guide you through the claims process and help you obtain compensation for damages. Schedule a free consultation today by filling out the online form or calling 281-347-3247.
Resource:
khou.com/article/news/local/fatal-crash-hollister-highway-290-houston/285-1d8940ee-e14d-4e95-97ed-6d3cd117df08